February 16, 2016
5 x 5 Gy, Consolidation Chemotherapy Slightly Superior for cT4 or Fixed cT3 Rectal Cancer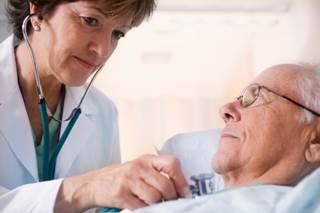 Long-course oxaliplatin-based preoperative chemoradiation was similarly efficacious in patients with cT4 or fixed cT3 rectal cancer
Long-course oxaliplatin-based preoperative chemoradiation vs 5 x 5 Gy and consolidation chemotherapy were similarly efficacious in patients with cT4 or fixed cT3 rectal cancer, however improved overall survival and lower acute toxicity were associated with the 5 x 5 Gy arm, according to a study published in the Annals of Oncology.1
Improvements in local control are needed when using preoperative chemoradiation for cT4 or advanced cT3 rectal cancer and in this trial, investigators sought to explore more effective schedules.
A total of 515 patients with fixed cT3 or cT4 were randomly assigned to receive 5 x 5 Gy and 3 cycles of FOLFOX4 (fluorouracil, leucovorin, oxaliplatin; group A; n = 261) or to 50.4 Gy in 28 fractions combined with two 5-day cycles of bolus 5-fluorouracil 325 mg/m2/day and leucovorin 20 mg /m2/day during the first and fifth week of irradiation along with 5 infusions of oxaliplatin 50 mg/m2 once a week (group B; n = 254).
The study's primary endpoint was RO resection rates, which were 77% in group A and 71% in group B (P = .07). Pathological complete response rates were 16% vs 12% (P = .17).
RELATED: High Ligand Expression Can Predict Panitumumab Efficacy in Some With Colorectal Cancer
At 3 years, overall survival and disease-free survival were 73% vs 65% (P = .046) and 53% vs 52% (P = .85), respectively. Cumulative incidence of local failure and distant metastases were 22% vs 21% (P = .82) and 30% vs 27% (P = .26). Postoperative and late complication rates were 29% in group A and 25% in group B (P = .18) and 20% vs 22%, respectively (P = .54).
Reference
Bujko K, Wyrwicz L, Rutkowski A, et al. Long-course oxaliplatin based preoperative chemoradiation vs. 5 x 5 Gy and consolidation chemotherapy for cT4 or fixed cT3 rectal cancer: results of a randomised phase III study [published online ahead of print February 15, 2016]. Ann Oncol. doi: 10.1093/annonc/mdw062.