June 26, 2014
Triterpenoids May Prevent Colitis-associated Colon Cancer
the Cancer Therapy Advisor take:
The risk for colon cancer is approximately 10 times greater among people with inflammatory bowel disease, such as colitis, but because epithelial cancers generally take years to develop, chemoprevention strategies may at least slow their onset, according to John Letterio, MD.
In a study recently published in the Journal of Clinical Investigation, John Letterio, MD, and colleagues evaluated a class of small antioxidant molecules known as synthetic triterpenoids to see if they had potential for suppressing colitis-associated colon cancer. These molecules, they said, inhibit inflammation and increased 15-hydroxyprostaglandin dehydrogenase (15-PGDH), which, at high levels, appears to reduce colon cancer risk.
Results indicated that oral administration of triterpenoids boosted survival in mice that were genetically predisposed to inflammation-driven intestinal neoplasia. Triterpenoid molecules also decreased production of inflammatory mediators and increased 15-PGDH.
In normal mice, triterpenoids prevented inflammation and colon cancer, even after exposure to carcinogens associated with the conditions, and activated epithelial cells' responses to TGF-beta.
The researchers plan to study triterpenoids in models of non-colitis-associated colon cancer and inflammatory bowel disease. Eventually, they hope to test the effect of triterpenoids in human trials in cancer chemoprevention.
These findings open the door to exploring new options in chemoprevention in a population that is particularly vulnerable to colon cancer, with the researchers calling this the "first true advance in this field."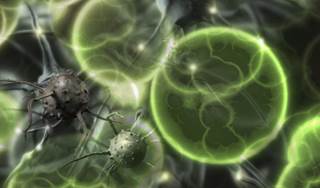 Triterpenoids May Prevent Colitis-associated Colon Cancer
Researchers from Case Western Reserve and Dartmouth universities have shown that a class of small antioxidant molecules carries enormous promise for suppressing colon cancer associated with colitis. These findings, published in the Journal of Clinical Investigation, offer hope that physicians ultimately will be able to reduce dramatically the number of sufferers of this inflammatory bowel disease (IBD) who go on to develop colon cancer.
The molecules, known as synthetic triterpenoids, appear to achieve their positive effect in two ways. First, they impede inflammation, often a flashpoint that contributes to the development of colon cancer. Second, they increase 15-hydroxyprostaglandin dehydrogenase (15-PGDH), a gene product that is known at high levels to protect against colon cancer. The oral administration of synthetic triterpenoids showed such success in mice that the researchers believe that clinical trials could demonstrate their efficacy in chemoprevention - that is, the administration of medicine to stop or delay the onset of cancer, rather than treat it.
Related Resources
Sign Up for Free e-newsletters
Regimen and Drug Listings
GET FULL LISTINGS OF TREATMENT Regimens and Drug INFORMATION