March 10, 2015
Aprepitant Not Superior to Metoclopramide in Preventing Cisplatin-Induced Emesis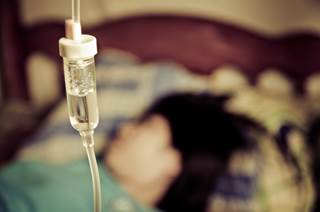 Aprepitant plus dexamethasone is not superior in preventing delayed emesis in patients with cancer receiving cisplatin-based chemotherapy
According to a new study published online in the journal Annals of Oncology, researchers have found that aprepitant plus dexamethasone is not superior to metoclopramide plus dexamethasone in preventing delayed emesis in patients with cancer receiving cisplatin-based chemotherapy
For the double-blind study, researchers sought to determine if aprepitant, a 5-HT3 receptor antagonist, in combination with dexamethasone is superior to metoclopramide plus dexamethasone in preventing delayed emesis in patients with cancer receiving the same antiemetic prophylaxis for acute emesis.
Researchers randomly assigned patients to receive dexamethasone 8mg PO on days 2-4 plus aprepitant 80mg once daily on days 2-3 or metoclopramide 20mg four times daily plus dexamethasone 8mg two times daily.
RELATED: Weekly Docetaxel Plus Cisplatin Not Superior to Docetaxel Monotherapy in Elderly Lung Cancer
All patients were treated with palonosetron 0.25mg, dexamethasone 12mg, and aprepitant 125mg before chemotherapy.
Results showed that there was no significant difference in complete response rates on day 2-5 (80.3% with aprepitant vs 82.5% with metoclopramide; P < 0.38).
Complete protection, total control, no nausea, no vomiting, and score of Functional Living Index-Emesis were also similar in both arms (P < 0.24). In regard to toxicity, no significant difference in adverse events incidence was observed.
Reference