June 20, 2018
ARID1A Mutations Might Predict Tumor Response to Immunotherapy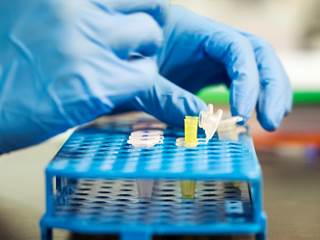 New findings bolster the case for the predictive utility of ARID1A mutations.
Loss-of-function mutations in the tumor suppressor gene ARID1A disrupt DNA mismatch repair (MMR) and improve outcomes for mice treated with PD-1-targeting immune checkpoint inhibition, according to a study published in Nature Medicine.1
"Since this is a very highly mutated gene in cancer, we wanted to better understand the biological function of ARID1A and potential therapeutic vulnerabilities," said senior study author Guang Peng, MD, PhD, an associate professor of Clinical Cancer Prevention at the University of Texas MD Anderson Cancer Center in Houston, in a press release. "We did a variety of molecular assays and demonstrated, for the first time, that ARID1A deficiency has a causative relationship with MMR deficiency."2
"Previous studies have reported the association between ARID1A mutations and microsatellite instability," Dr Peng noted. "However our work discovered a causative relationship that ARID1A regulates MMR."
ARID1A mutations are particularly common in clear cell ovarian, endometrial, colorectal, stomach, and bladder cancers.1 The research team studied how ARID1A mutations affected MMR and responses to PD-1 immune checkpoint blockade in mice with ovarian and colorectal tumors harboring these mutations.
Their findings suggest that ARID1A mutations sensitize tumors to immune checkpoint blockade — and could prove to be a new predictive biomarker for this type of immunotherapy.
While some patients experience dramatic benefits from immune checkpoint blockade, most do not; researchers have been searching for reliable predictive biomarkers with which to identify those patients who are most likely to benefit. Because ARID1A mutations are among the most frequently mutated epigenetic regulator genes across human malignancies, and most such mutations inactivate the gene's expression, their utility as a predictive biomarker — if validated in additional studies and in humans — could reshape how immunotherapies are prescribed.
And because ARID1A mutations and resulting MMR deficiency cause tumors to accumulate myriad unrepaired mutations, those tumors express more and more neoantigens on their cell surfaces over time. Neoantigens increase tumor appearance to immune cells and should improve antitumor immune attack responses.3,4 Neoantigens might be just one of the mechanisms involved in the role of ARID1A mutations in antitumor immunity, Dr Peng noted.
PD-1 immune checkpoint inhibition reduced tumor burden and prolonged survival in lab mice with tumors harboring ARID1A mutations, Dr Peng's team found.1
But there is good reason to suspect these mutations might improve the efficacy of other immunotherapies, as well — and might improve natural antitumor immunity on its own, Dr Peng said.