August 29, 2014
C-Reactive Protein Linked to Radiotherapy-Induced Early Adverse Skin Reactions
the Cancer Therapy Advisor take:
According to a new study published in the journal Cancer Epidemiology, Biomarkers and Prevention, researchers have demonstrated that C-reactive protein (CRP), an inflammatory biomarker, is associated with radiotherapy-induced early adverse skin reactions (EASRs), specifically in obese patients with breast cancer.
In the study, researchers identified 159 patients with breast cancer undergoing radiotherapy and measured radiotherapy plasma CRP levels before and after the patients underwent radiotherapy. Researchers then assessed radiotherapy-induced EASRs at weeks 3 and 6 and utilized statistical models to observe associations between CRP levels and EASRs.
The researchers found that grade 2+ EASRs were significantly linked with a change of CRP greater than 1 mg/L (OR, 2.51; P=0.04). When a patient with breast cancer had a change of CRP greater than 1 mg/L and was also obese, the association was significant (OR, 5.21; P=0.003).
The researchers suggest that if larger studies validate the findings of this study, anti-inflammatory agents should be developed to stop normal tissue from radiotherapy-induced adverse skin reactions. Agents with this effect would also improve the quality of life in patients with breast cancer who have opted to undergo post-surgery adjuvant radiotherapy.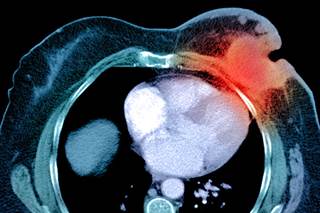 Breast cancer is the second leading cause of cancer death in women.
This study suggest that breast cancer is the most frequently diagnosed cancer and the second leading cause of cancer death in American women. Postsurgery adjuvant radiotherapy (RT) significantly reduced the local recurrence rate.
However, many patients develop early adverse skin reactions (EASR) that impact quality of life and treatment outcomes. This is the first study to demonstrate that an inflammatory biomarker CRP is associated with RT–induced EASRs, particularly combined with obesity.
Related Resources
Sign Up for Free e-newsletters
Regimen and Drug Listings
GET FULL LISTINGS OF TREATMENT Regimens and Drug INFORMATION