January 27, 2017
Do Clinical Trials Overstate New Cancer Drugs' Survival Benefits?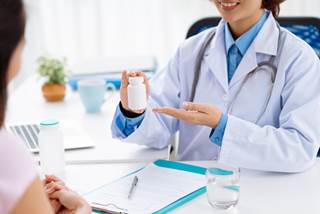 Experts disagree about whether success in clinical trials translates to success in real world treatment settings.
Clinical cancer trial outcomes might frequently exaggerate real world survival expectations for general patient populations, prompting 2 oncologists to suggest changes to the U.S. Food and Drug Administration (FDA)'s standards of evidence and endpoints.1
"The benefit of most cancer drugs is marginal, and these benefits are seen in carefully selected, young, healthy populations—in part because such patients can be rapidly enrolled in clinical trials and comorbidities do not confound interpretations of the drugs' activity," explained Sham Mailankody, MBBS, of the Memorial Sloan Kettering Cancer Center in New York, New York, and Vinay Prasad, MD, MPH, of the Oregon Health & Science University in Portland. "Whether such drugs retain their benefits when used in the real world is unknown but is clearly important for the purpose of drug regulation."
The FDA is supposed to approve drugs that improve outcomes for "average American patients," Dr Prasad told Cancer Therapy Advisor. "That's our premise and nobody would argue with that. The sad reality is that the average cancer drug approved in America is marginal, if you look at 71 consecutive drugs approved for solid tumors between 2002 and 2014, the median improvement in overall survival was 2.1 months." (Dr Prasad was referring to a previous study by Dr Mailankody and others.)2
"Patients in these trials where you get marginal benefits? They don't look like patients in the real world," Prasad noted. Trial participants tend to be younger and to have fewer comorbidities, Dr Prasad noted. "So we are approving drugs with marginal gains in unrepresentative populations. When you look at how those drugs do in the real world, you find that those marginal gains evaporate."
Older patients more frequently suffer severe toxicities in real world clinical experience than in trial settings—and are more likely to require dose adjustments or to quit drugs altogether, Dr Prasad noted. Dose adjustments and interruptions can reduce efficacy.
FDA approval of the oral tyrosine kinase inhibitor sorafenib for advanced liver cancer was based on an improved median survival of 2.8 months, from 7.9 to 10.7 months, Dr Prasad noted. But patients in the trial had a good performance status. Subsequent real-world clinical experience failed to replicate that benefit, largely because most patients were older and had comorbidities.
Dr Mailankody and Dr Prasad offer 2 suggestions to help avoid similar situations in the future. First, the FDA could use its authority to require pragmatic clinical trials in which participant subgroups, demographics, and comorbidities better represent actual patient populations. Second, clinical trial survival endpoint data could be used as a surrogate end point for "accelerated" regulatory approval, and full traditional approval could be delayed until real world survival data become available, they suggested. That would "facilitate evidence-based medicine," because it would ensure that real world clinical experience could be systematically compared to clinical trial outcomes, they argued.
Yet some critics are unconvinced. "I'm not sure there need to be any revolutionary changes," Primo Lara, MD, a clinician and researcher at UC Davis Comprehensive Cancer Center in Sacramento, California, told Cancer Therapy Advisor.
Accelerated approvals often require "phase 4" post-marketing studies to offer more detailed information about performance in the real world. "There are a few cases where an indication was reversed because of unexpected safety signals. It's in place. There is nothing that needs to fundamentally change."