July 17, 2014
Cancer Diagnosis May Improve Via Self-assembling Nanoparticle
the Cancer Therapy Advisor take:
Nicholas Long, chemistry professor at Imperial College London, said that although magnetic resonance imaging (MRI) examinations are prevalent in hospital settings, some doctors may feel that they miss smaller tumors in the early stages. According to a study published in Angewandte Chemie, a newly developed self-assembling nanoparticle might increase the effectiveness of an MRI examination and help doctors detect smaller tumors.
Long and researchers at Imperial College London developed this nanoparticle by coating it with a protein that looks for receptors found in tumors. When the nanoparticle detects the tumor, the protein coating is stripped off, and the nanoparticle self-assembles into a larger particle. This makes the particle more visible for MRI scanning.
By comparing the self-assembling nanoparticle effects in used cancer cells and mouse models, researchers determined that the nanoparticle made a clearer MRI image of the cancerous mass. This will lead to earlier detection and therefore earlier cancer treatment, according to Long.
In addition, the results may increase cancer survival rates. Researchers are currently fine-tuning the nanoparticle's effectiveness to make it even easier for doctors to detect tumors by adding an extra optical signal. When a nanoparticle finds its cancerous target, it will light up with a luminescent probe.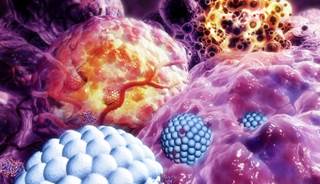 Cancer Diagnosis May Improve Via Self-assembling Nanoparticle
Scientists have designed a new self-assembling
nanoparticle
that targets tumours, to help doctors diagnose cancer earlier. The new nanoparticle, developed by researchers at Imperial College London, boosts the effectiveness of Magnetic Resonance Imaging (MRI) scanning by specifically seeking out receptors that are found in cancerous cells.
Related Resources
Sign Up for Free e-newsletters
Regimen and Drug Listings
GET FULL LISTINGS OF TREATMENT Regimens and Drug INFORMATION