December 21, 2016
The Dashboard of Happiness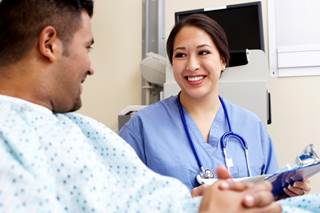 Dr Barbara Burtness of Yale University's School of Medicine discusses the relationship between happiness and clinical practice in oncology.
In the increasingly corporate atmosphere of the university hospital, academic physicians are regularly presented with dashboards for evaluating arbitrary measurements, such as how many new patient visits they had, how many visits with a midlevel provider, or how many hours elapsed between these visit and the completion of the medical record.
We are often reminded that you can't manage what you can't measure, and of course it is much easier to measure things that come in discrete units—patient encounters, for example—than it is to measure outstanding and compassionate care, creative research, or inspiring teaching. It's become common to set a target of work relative value units (wRVUs) that a physician is expected to meet, and to provide a minute financial reward for every RVU above the target.
Why does this incentive system work? The hospital administrators who advocate for these systems—themselves well-compensated, expensively dressed, at ease with the notion of managing physicians as they would a staff of sales reps—seem to assume that a group of well-paid professionals, doing some of the most rewarding work available to our species, will always accept this deal.
Forget for a minute whether it still makes sense for hospitals to design their operations to maximize billing opportunities, rather than investing in the structures which will provide improved quality of care. Forget for a moment the ways medical schools have abdicated responsibility to model dedication to patients and to medicine, rather than to profit. I just want us to focus on what happiness theory tells us about the actual value of the incentives on offer here.
The famous "happiness paper" by Kahneman and Deaton, published in PNAS in 2010,1 began with the well-established observation that plots of subjective well-being against income in dollars are invariably strongly concave (a finding often interpreted to mean that money cannot buy happiness).
Kahneman and Deaton analyzed 450,000 responses to the Gallup-Healthways Well-Being Index, and concluded that although increasing income up to at least $120,000 is associated with better life evaluation, and poverty can exacerbate the stress or pain resulting from illness, divorce or loneliness, there was no evidence that emotional well-being improved with any increment in income above $75,000 income per year in 2009 dollars.