August 20, 2014
Diarrhea and Patients With Cancer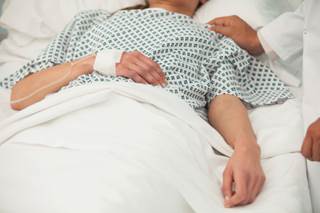 Diarrhea is a treatment symptom as common as hair loss but with deadlier implications.
Patients with cancer undergoing treatment who downplay diarrhea as common or stress-related need to be told by oncologists that the consequences of diarrhea can be "significant and life-threatening".1
Nearly 50% of patients with cancer who undergo treatment for the disease experience diarrhea, cancer's most prevalent symptom, and one that arrives from several contributing gastrointestinal (GI) diagnoses, according to a new study by the Royal Marsden Hospital in London, England, delivered at the 2014 British Society of Gastroenterology Annual Meeting.2
The appearance of diarrhea in patients with cancer during and after chemotherapy or radiation rises to rates as high as 80%, particularly when drugs containing fluoropyrimidines or irinotecan were used, the National Cancer Institute (NCI) reported.1
Of note, more than half of patients undergoing chemotherapy for colorectal cancer experienced grade 3 or grade 4 diarrhea. Grade 3 represents an increase of seven stools per day over normal and requires treatment for diarrhea that can delay or discontinue a patient's cancer treatment. Grade 4 signals life-threatening consequences and the need for urgent intervention. Grade 5 is death.1
"Diarrhea is a symptom," said Jervoise Andreyev, MA, PhD, FRCP, consultant gastroenterologist in pelvic radiation disease at the Royal Marsden Hospital in England and coauthor of the study. "It may have many different causes, and in lots of patients more than one cause after cancer treatment," he said.
RELATED: Cancer Care Improves When Oncologists Relate to Patients
In their last month of life, 19% of children with cancer experience diarrhea. Upon admission to hospice, diarrhea reaches moderate to severe levels in 7% to 10% of patients with cancer.1 In men, diarrhea appears on average in as many as 82% undergoing prostate-related urology cancer treatments, the Royal Marsden study revealed.2
Diarrhea classified as a symptom validates stress as a possible cause. But the Royal Marsden study warns oncologists not to allow patients to rank and accept diarrhea in the way they would treatment-related hair loss, as a minor event within a much larger drama.2
Roughly equal in appearance in men as it is in women (52% men, 47% women), diarrhea takes part in all categories and stages of cancer treatment. When broken down by type of treatment the Royal Marsden study concluded that diarrhea appears in up to 82% of patients being treated for urological (prostate) cancer, 22% of patients with gynecological cancer, 20% of patients with colorectal cancer, 10% of patients with upper GI cancers, 8% of patients with hematological cancers, and 6% of patients treated for other cancers.
Additionally, 69% of the 207 patients in the Royal Marsden study underwent pelvic radiotherapy, 48% were treated with surgery or received chemotherapy, 12% received pelvic radiotherapy alone, 6% received surgery, 3% received chemotherapy alone, and 29% received all three treatment modalities.2


It's Not Just the Cancer
When oncologists talk to their patients about diarrhea as a symptom that requires diligent reporting, the reframing can help raise a patient's alarm level to diarrhea and give doctors a head start if a specialist needs to be brought in. This could be more often than not considering 80% of patients in the Royal Marsden study had multiple causes for their diarrhea.2
"If patients do not respond to simple treatments to control the diarrhea, then systematic assessment by a GI specialist can improve symptoms very substantially in most people," Dr. Andreyev told CancerTherapyAdvisor.com. "What we do is try and sort out the cause or causes for the diarrhea and treat them, rather than simply try and treat the symptom."
Some of these causes were small intestinal bacterial overgrowth which was found in 49% of those studied; also, bile acid malabsorption which was diagnosed in 33% of patients, weak pelvic floor musculature (20%), pancreatic insufficiency (13%), excess fiber intake (11%), and lansoprazole (9%). Thyroid problems (9%), anal fissures (5%), rectal ulcerations (5%), fecal loading (5%), and new onset inflammatory bowel disease (3%) also bore diarrhea as a symptom. A colorectal polyp was discovered in 16% of patients, while one had a new colorectal cancer and two had GI strictures.2
Of note, in several clinical trials where irinotecan with high-dose fluorouracil and leucovorin were used in colorectal cancer treatment, early death rates of 2.2% to 4.8% were primarily due to GI toxicity. This led to a revision of previously published clinical practice guidelines for the treatment of cancer treatment-induced diarrhea "with a heightened emphasis on assessment and early aggressive interventions."1
Diarrhea caused by radiation therapy may not appear for months or even years. Its arrival can be a symptom of either acute of chronic radiation enteritis, which is damage to the lining of the intestines that requires treatment be halted until the damaged bowel lining improves.5
Diarrhea and rectal bleeding, along with abdominal pain and bloating, were the predominant symptoms of damage caused by radiation therapy in 30.8% of patients in a study conducted by the University Hospital Llandough in the United Kingdom. Several patients had multiple symptoms.3
Even when deciding on surgical best practices for pancreatic cancer, diarrhea should be considered if total pancreatectomies are in question. A radical surgical resection is the only way to cure pancreatic cancer, and complications following this difficult procedure are present between 30% and 40% of the time.4
Nine patients in a New York University School of Medicine study series given total pancreatectomies required supplemental pancreatic enzymes to control diarrhea or steatorrhea. All nine also required insulin postoperatively for glucose control. A 74-year-old in this group died 3 months later of uncontrolled diabetic ketoacidosis. This led the school to advise doctors that "unless indicated by the extent of disease, total pancreatectomy is not recommended."4