January 28, 2014
Exercise Ups Survival in Men After Cancer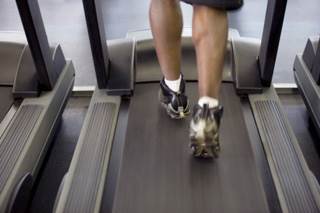 Exercise Ups Survival in Men After Cancer
(HealthDay News) — Men who are physically active after a cancer diagnosis have significantly improved survival, according to a study published in the January issue of the Journal of Physical Activity & Health.
I-Min Lee, MBBS, ScD, MPH, from Harvard Medical School in Boston, and colleagues examined the association between physical activity after a cancer diagnosis and mortality risk in 1,021 men (mean age, 71.3 years) diagnosed with cancers other than nonmelanoma skin cancers. The men reported their physical activities in 1988, a median of 6 years after their cancer diagnosis, and again in 1993.
During an average of 11.8 years of follow-up, 777 men died (337 from cancer and 190 from cardiovascular disease), according to the researchers.
After controlling for multiple variables, the risk of all-cause mortality was significantly lower with increasing physical activity (relative risk [RR], 0.52 for ≥12,600 kJ/week vs. <2,100 kJ/week). The risk of death from cancer and cardiovascular disease was also significantly lower with increasing physical activity.
Results remained similar for analyses that accounted for cancer stage; grade; and surgery, chemotherapy, and radiotherapy treatment (RR, 0.51 for ≥12,600 kJ/week vs. <2,100 kJ/week).
In additional analyses, the researchers evaluated the 421 men who received a cancer diagnosis at least 5 years prior to baseline. They found that the RR was 0.48 for ≥12,600 kJ/week vs. <2,100 kJ/week. For men diagnosed at least 10 years before baseline, the RR was 0.37, the researchers wrote.
"Engaging in physical activity after cancer diagnosis is associated with better survival among men," Lee and colleagues concluded.
References