December 02, 2014
Survey Explores Oncologists' Knowledge, Practice Patterns Surrounding Herb and Supplement Use
the Cancer Therapy Advisor take:
Complementary and alternative medicine, which includes herbs and supplements (HS), are often used by cancer patients during treatment.
However, it is unclear as to how many oncologists discuss the topic of HS use with their patients, and how much they actually know about the topic.
The American Society of Clinical Oncology (ASCO) surveyed a random sample of 1,000 of their members and asked questions related to communication patterns, attitudes about HS, education and knowledge about HS, and response to HS use among hypothetical patients with cancer.
Forty-two percent of the doctors surveyed responded to the survey, and on average, oncologists discussed the topic of HS with 41% of their patients, of which only 26% of these discussions were initiated by the oncologist.
Factors associated with the initiation of discussion by oncologists included female sex, higher self-reported knowledge, and prior education about HS, increased knowledge about HS adverse effects and interactions, and estimating that more than 40% of one's patients with cancer use HS.
The article published in the Journal of Clinical Oncology concluded that the main barrier to initiating conversations about HS use with patients was the lack of education and knowledge on the topic, and that improving physician education would likely facilitate more physician-patient communication about HS use.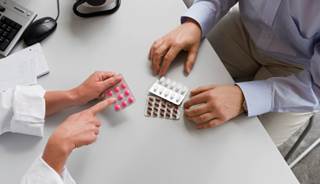 It is unclear as to how many oncologists discuss the topic of herbal supplement use with their patients.
National survey of US Oncologists' knowledge, attitudes, and practice patterns regarding herb and supplement use by
patients with cancer
Journal of Clinical Oncology, 12/02/2014 Clinical Article Lee RT, et al. – Patients with cancer commonly use complementary and alternative medicine, including herbs and supplements (HS), during cancer treatment.
Related Resources
Sign Up for Free e-newsletters
Regimen and Drug Listings
GET FULL LISTINGS OF TREATMENT Regimens and Drug INFORMATION