September 22, 2014
Metastases May Be Identified Using Bioluminescent Genes
the Cancer Therapy Advisor take:
According to new research published in the journal Cancer Research, researchers at the Massey Cancer Institute and Institute of Molecular Medicine, both at Virginia Commonwealth University in Richmond, Virginia, and Johns Hopkins in Baltimore, Maryland, have designed a new molecular imaging method that can better detect metastases from cancer, including bone metastases.
The novel, non-invasive, molecular-genetic technique detects a protein called AEG-1, which is expressed in the majority of cancer cells, but not normal cells. Using this method, researchers were able to detect bone metastases in animal models. There are currently no sensitive and specific non-invasive methods to identify bone metastases.
The technique combines AEG-Prom, a promoter that initiates gene activity, with bioluminescent substances and HSV1tk, a gene that activates a chemical reaction when certain radioactive substances are administered. The combination is then inserted into nanoparticles and administered intravenously. When the nanoparticles come in contact with c-MYC protein, a protein that is overexpressed in many cancers, AEG-Prom initiates a chemical reaction that results in bioluminesence of cancer metastases. Using sensitive imaging devices, the researchers can locate the metastases.
Researchers hope to start testing this method in clinical trials and also suggest that this method may be used to deliver targeted therapies.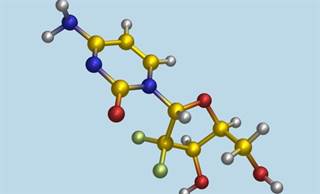 Researchers designed a new molecular imaging method that can better detect metastases from cancer.
Bioluminescence, nanoparticles, gene manipulation - these sound like the ideas of a science fiction writer, but, in fact, they are components of an exciting new approach to imaging local and metastatic tumors.
In preclinical animal models of metastatic prostate cancer, scientists at Virginia Commonwealth University Massey Cancer Center, VCU Institute of Molecular Medicine and Johns Hopkins Medical Institutions have provided proof-of-principle of a new molecular imaging approach that could revolutionize doctors' ability to see tumors that have metastasized to other sites in the body, including the bones.
Recently published in the OnlineFirst edition of the journal Cancer Research, a journal of the American Association for Cancer Research, this multiple institution study is the first to develop in vivo (in animal models) a systemically administered, non-invasive, molecular-genetic technique to image bone metastases resulting from prostate cancer.
Related Resources
Sign Up for Free e-newsletters
Regimen and Drug Listings
GET FULL LISTINGS OF TREATMENT Regimens and Drug INFORMATION