September 26, 2014
Pleiotrophin Key to Accelerating Blood System Recovery
the Cancer Therapy Advisor take:
According to a new study published in the Journal of Clinical Investigation, researchers from the University of California, Los Angeles, Jonsson Comprehensive Cancer Center in Los Angeles, California, have discovered how a particular protein in the bone marrow prompts stem cells to repair the
human blood system after the administration of chemotherapy and radiation
. In the study, the researchers identified a new protein called pleiotrophin that attaches to hematopoetic stem cells (HSCs). This process thereby activates the blood stem cells to begin recovery of the blood system.
For the study, the researchers injected mice with pleiotrophin after a dose of radiation that would normally be lethal. Two-thirds of the mice survived the lethal radiation dose after their HSCs and blood system recovered more rapidly due to the administration of pleiotrophin. In addition, by inhibiting pleiotrophin from binding to HSCs, blood stem cells had no advantage in recovery, suggesting that pleiotrophin is essential in accelerating the recovery of the blood system.
The team of researchers is currently conducting a phase 1 clinical study to test pleiotrophin in patients undergoing radiation and chemotherapy. They hope their results will improve outcomes for patients undergoing treatments toxic to the blood system.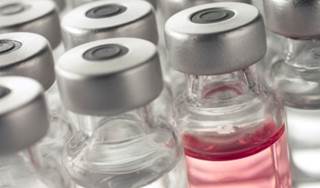 A particular protein prompts stem cells to repair the human blood system after chemo.
Scientists from UCLA's Jonsson Comprehensive Cancer Center (JCCC) have shown for the first time how a unique protein found in human bone marrow can drive stem cells to repair our blood system after an injury.
These groundbreaking findings provide a roadmap to make existing radiation and chemotherapy treatments more effective for patients with cancer and other blood-related diseases. Led by Dr. John Chute, UCLA professor of hematology and radiation oncology and JCCC member, the nearly two-year study was published online ahead of print in the Journal of Clinical Investigation.
Millions of cancer patients worldwide currently receive some form of radiation therapy or chemotherapy in hopes of curing the disease, and most will suffer damage to the blood system as a result. Current therapeutic regimens are also cyclical (generally requiring a 30-day wait period between treatments) to allow the blood system time to heal and repair.
Related Resources
Sign Up for Free e-newsletters
Regimen and Drug Listings
GET FULL LISTINGS OF TREATMENT Regimens and Drug INFORMATION