September 26, 2014
Researchers Use Bacillus Anthracis to Deliver Antibodies to Cancer Cells
the Cancer Therapy Advisor take:
According to a new study in the journal ChemBioChem, researchers from the Massachusetts Institute of Technology in Cambridge, Massachusetts, have successfully rendered Bacillus anthracis bacteria nontoxic and hijacked their delivery system to deliver antibody mimics to cancer cells. These antibody mimics are two proteins that disrupt certain proteins within the cells, thereby killing them.

In the study, researchers targeted numerous proteins, including the break point cluster region-Abelson tyrosine kinase fusion gene Bcl-Abl which is known to cause chronic myeloid leukemia (CML). When Bcl-Abl was disrupted by the antibody mimics delivered by the bacteria, the cancer cells underwent apoptosis. By removing two proteins called lethal factor and edema factor from the anthrax bacteria, the researchers could insert the antibody mimics in place of the toxic regions. These cargo proteins then enter mammalian cells via the protective antigen. The protective antigen binds to TEM8 and CMG2 receptors that are found in most mammalian cells.

The researchers are currently studying this method for the treatment of mice with tumors and are developing approaches to deliver the antibody mimics to certain types of cells. They hope to use this method to develop novel drugs to treat cancer and other diseases.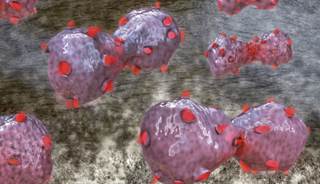 Researchers have successfully rendered Bacillus anthracis to deliver antibody mimics to cancer.
Bacillus anthracis bacteria have very efficient machinery for injecting toxic proteins into cells, leading to the potentially deadly infection known as anthrax. A team of MIT researchers has now hijacked that delivery system for a different purpose: administering cancer drugs.
"Anthrax toxin is a professional at delivering large enzymes into cells," says Bradley Pentelute, the Pfizer-Laubauch Career Development Assistant Professor of Chemistry at MIT. "We wondered if we could render anthrax toxin nontoxic, and use it as a platform to deliver antibody drugs into cells."
Related Resources
Sign Up for Free e-newsletters
Regimen and Drug Listings
GET FULL LISTINGS OF TREATMENT Regimens and Drug INFORMATION