August 18, 2014
Ruxolitinib May Help Those With Alopecia
the Cancer Therapy Advisor take:
A small new study published in the journal Nature Medicine has shown that ruxolitinib may cause the regrowth of hair in patients with alopecia areata, an autoimmune disorder that causes hair loss mostly from the scalp, but also other parts of the body.
In the study, three patients took ruxolitinib daily for about 4 to 5 months and all had a complete regrowth of their hair. Investigators were also able to determine the mechanism behind alopecia areata for the first time.
They found that immune pathways involving a specific set of T cells are responsible for destroying hair follicles, and they also identified how those cells are programmed to do so. In the small study, ruxolitinib did not cause any adverse effects; however, the drug has been shown to cause infections, thrombocytopenia, and anemia in larger studies.
Ruxolitinib is already approved by the U.S. Food and Drug Administration to treat patients with myelofibrosis, a disorder of the bone marrow. Ruxolitinib and another janus kinase (JAK) inhibitor, tofacitinib, were tested in mice with significant hair loss and within 12 weeks of therapy, the mice experienced full regrowth.
Although alopecia areata and chemotherapy-induced alopecia are different, future larger studies will have to determine whether JAK inhibitors may be used in patients with chemotherapy-induced alopecia as well.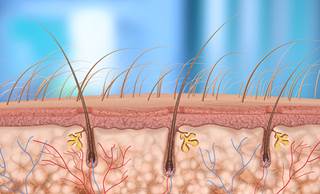 A drug could restore hair growth in patients with one disease that can cause hair loss.
Most hair-loss drugs currently available may stop hair loss, but don't cause hair to regrow. Now, new research suggests that a drug already used to treat people with other conditions could restore hair growth in patients with one disease that can cause hair loss.
In a small new study, three people who took a drug called ruxolitinib daily for four to five months saw a complete regrowth of their hair. The patients had a condition called alopecia areata, which is an autoimmune disease that causes the loss of hair from the scalp or other areas of the body.
Related Resources
Sign Up for Free e-newsletters
Regimen and Drug Listings
GET FULL LISTINGS OF TREATMENT Regimens and Drug INFORMATION