February 17, 2017
Adjuvant Trials in Post-radical Prostatectomy Prostate Cancer Are Feasible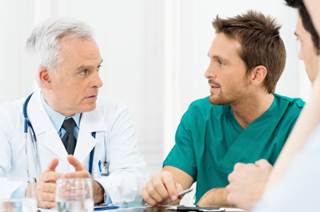 A phase 3 study presented at the 2017 Genitourinary Cancers Symposium demonstrated the feasibility of conducting adjuvant trials.
ORLANDO, FL – A phase 3 study presented at the 2017 Genitourinary Cancers Symposium demonstrated the feasibility of conducting adjuvant trials for patients with prostate cancer who have undergone radical prostatectomy.1
"In 1999, preoperative PSA of 20 ng/mL or greater, poorly differentiated histology, seminal vesicle or extensive surgical margin involvement, extraprostatic extension, or nodal metastases defined a high risk group of patients with, at the time, a 50% or greater biochemical relapse rate at 5 years," said lead study author Michael Glode, professor of the division of medical oncology at the University of Colorado School of Medicine in Denver. "Longer-term adjuvant androgen deprivation therapy (ADT) improved outcomes for curative-intent radiation therapy."
For the open-label, phase 3 trial (ClinicalTrials.gov Identifier: NCT00004124), investigators enrolled 961 patients with clinically localized prostate cancer. Patients were randomly assigned 1:1 to receive ADT consisting of bicalutamide and goserelin for 24 months or ADT with mitoxantrone plus prednisone for 6 cycles. The study permitted radiotherapy in both arms at physician discretion.
The study was terminated early due to an increased incidence of acute myeloid leukemia in the mitoxantrone arm. "Mitoxantrone plus prednisone significantly increases the risk of leukemia and other cancers when added to ADT," said Dr Glode.
The intention-to-treat analysis showed no significant difference in disease-free survival (hazard ratio [HR], 1.01; 95% CI, 0.80-1.27; P = .94) or overall survival (HR, 1.06; 95% CI, 0.79-1.43; P = .70). Dr Glode noted, however, that survival was greater than anticipated in both arms.
"Mitoxantrone plus prednisone does not improve prostate cancer survival or freedom from progression when added to 2 years of adjuvant ADT in high risk patients," conclude Dr Glode. "This trial demonstrates the feasibility of doing adjuvant trials in prostate cancer post radical prostatectomy."
RELATED: Novel Mutated Genes, Pathways in Prostate Cancer Identified
When asked if he and his colleagues should have used docetaxel in place of mitoxantrone for the chemotherapy, Dr Glode responded that docetaxel plus prednisone was not shown to be superior to mitoxantrone plus prednisone in advanced disease until 5 years after the development of this trial.
Reference
Glode LM, Tangen CM, Hussain M, et al. Adjuvant androgen deprivation (ADT) versus mitoxantrone plus prednisone (MP) plus ADT in high-risk prostate cancer (PCa) patients following radical prostatectomy: A phase III intergroup trial (SWOG S9921). Paper presented at: 2017 Genitourinary Cancers Symposium; February 16-18, 2017; Orlando, FL.