February 09, 2018
Cabozantinib May Improve Survival in mCRPC Patient Subgroup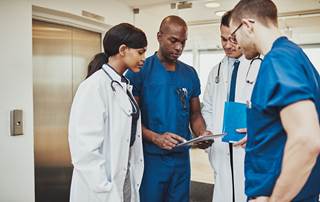 COMET-1 and COMET-2 previously showed no overall survival benefit with cabozantinib.
Cabozantinib may benefit post-docetaxel patients with metastatic castration-resistant prostate cancer (mCRPC) in groups controlled for prognostic risk factors, according to research presented at the 2018 Genitourinary Cancers Symposium in San Francisco, California.1
COMET-1 and COMET-2 (ClinicalTrials.gov Identifiers: NCT01605227 and NCT01522443, respectively), 2 phase 3 trials in which cabozantinib was compared with prednisone and prednisone plus mitoxantrone in post-docetaxel patients with mCRPC, showed no overall survival (OS) benefit with cabozantinib. For this study, researchers "conducted a retrospective analysis of a combined dataset of these trials in an attempt to identify a benefit in subsets of patients based on prognostic risk factors."
Data from 1028 patients from COMET-1 and 119 patients from COMET-2 were included. The authors identified the following prognostic risk factors: age, albumin levels, lactate dehydrogenase levels, bone scan lesion area, site of metastases, pain, docetaxel-free interval, ECOG performance status, and hemoglobin, alkaline phosphatase, and prostate-specific antigen (PSA) levels.
Cabozantinib did not improve survival for patients with any particular prognostic risk factor. Yet after adjusting for multiple factors, a hazard ratio for OS of 0.77 was observed in favor of cabozantinib (P = .003).
The authors concluded that "no differential effect of cabozantinib on survival was observed for any prognostic risk factor. A modest treatment effect of cabozantinib on OS was observed after controlling for multiple potential prognostic factors."
Read more of Cancer Therapy Advisor's coverage of the 2018 Genitourinary Cancers Symposium by visiting the conference page.
Reference
Pond GR, Sonpavde G, Fizazi K, et al. Cabozantinib for metastatic castration-resistant prostate cancer (mCRPC) following docetaxel: combined analysis of two phase III trials. Oral presentation at: 2018 Genitourinary Cancers Symposium; February 8-10, 2018; San Francisco, CA.