October 01, 2014
For HER2-Positive Uterine Serous Carcinoma, Afatinib May Be Effective
the Cancer Therapy Advisor take:
According to a new study published in the British Journal of Cancer, researchers from the division of gynecologic oncology at Yale School of Medicine in New Haven, Connecticut, found that afatinib caused uterine serous carcinoma tumors to shrink. For the study, researchers tested afatinib in tumors with normal and elevated levels of human epidermal growth factor receptor 2 (HER2). They found that HER2-positive uterine serous carcinomas were strongly affected by afatinib as tumor growth inhibition and cancer cell death were observed. When administered to mice, afatinib shrank the uterine serous tumors.

The results suggest that targeted treatments like afatinib may be effective treatment for this rare but aggressive type of cancer. Future studies should test afatinib in women with HER2-positive chemotherapy-refractory uterine serous carcinoma.

Afatinib is a tyrosine kinase inhibitor that binds to epithelial growth factor receptor, HER2, and HER4. It was initially approved by the U.S. Food and Drug Administration in 2013 for the first-line treatment of patients with metastatic non-small cell lung cancer (NSCLC) whose tumors have EGFR exon 19 deletions of exon 21 (L858R) substitution mutations.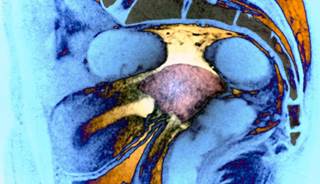 Afatinib caused uterine serous carcinoma tumors to shrink.
A drug which targets a key gene fault could halt an aggressive womb cancer and shrink tumours, according to research published in the British Journal of Cancer. The scientists, from the Division of Gynaecologic Oncology at Yale School of Medicine funded by the National Institutes of Health, showed that the drug afatinib not only killed off uterine serous cancer cells after stopping their growth but also caused tumours to shrink.
The drug, a type of personalised medicine, attacks faults in the HER2 gene which lie at the heart of the cancer cells. This stops the disease in its tracks. Drugs which target HER2 are already used to treat breast cancer. Uterine serous carcinoma is a fast-growing type of womb cancer. It is more likely than other womb cancers to come back after treatment, returning in one in two patients even if it is caught early.
Related Resources
Sign Up for Free e-newsletters
Regimen and Drug Listings
GET FULL LISTINGS OF TREATMENT Regimens and Drug INFORMATION