September 29, 2014
For Cervical Cancer, Cediranib Plus Chemotherapy Prolongs Progression-Free Survival
the Cancer Therapy Advisor take:
According to new findings presented at the European Society for Medical Oncology 2014 Congress in Madrid, Spain, cediranib in combination with carboplatin and paclitaxel improved tumor shrinkage and improved progression-free survival modestly in patients with recurrent cervical cancer. In the phase 2 CIRCCa trial, researchers from the University of Leicester in Leicester, United Kingdom, treated patients with metastatic or relapsed cervical cancer with paclitaxel and carboplatin in combination with either cediranib, an investigational drug, or placebo.

The researchers found that 66% of patients receiving cediranib combined with chemotherapy experienced tumor shrinkage compared with 42% of patients receiving chemotherapy plus placebo. Furthermore, cediranib plus chemotherapy increased progression-free survival by 5 weeks (35 versus 30 weeks); however, no difference was observed in median overall survival. Patients taking cediranib experienced increased blood pressure and diarrhea compared with those taking placebo.

Cediranib is a vascular endothelial growth factor (VEGF) receptor tyrosine kinase inhibitor (TKI) developed by AstraZeneca. In cervical cancer, cediranib cuts off the tumor blood supply causing cell death. The drug has failed in phase 2 and 3 trials for the treatment of patients with non-small cell lung cancer (NSCLC) and colorectal cancer, respectively.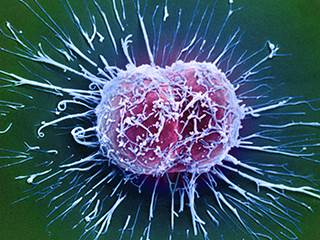 Cediranib with carboplatin and paclitaxel improved tumor shrinkage in cervical cancer.
For patients with cervical cancer that has recurred after treatment or has spread elsewhere in the body, adding the experimental drug cediranib to standard chemotherapy improves tumour shrinkage and adds a modest improvement in progression-free survival, researchers report at the ESMO 2014 Congress in Madrid.
In Europe, about 70% of patients with cervical cancer are cured by either surgery or chemo-radiotherapy. Those patients with recurrent or secondary cancer have a very poor outlook. Only about 20-30% have tumour shrinkage after conventional chemotherapy and survival is usually less than one year.
Related Resources
Sign Up for Free e-newsletters
Regimen and Drug Listings
GET FULL LISTINGS OF TREATMENT Regimens and Drug INFORMATION