August 25, 2014
Human Papillomavirus (HPV) Antiviral May Prevent Cervical Cancer
the Cancer Therapy Advisor take:
According to research findings presented at the 29th Annual International Papillomavirus Conference in Seattle, Washington, Hera Therapeutics has identified a small molecule, currently called HTI-1968, that can block the replication of human papillomavirus (HPV)-11, HPV-16, and HPV-18 in vitro. Subtypes HPV-16 and HPV-18 are responsible for 70% of all cervical cancers, and are also linked with anal, penile, throat, vaginal, and vulvar cancers. If proven effective, the direct-acting antiviral HTI-1968 would be applied topically to the skin to eliminate HPV.
Currently, there are two HPV vaccines approved by the U.S. Food and Drug Administration (FDA) that can prevent infection by HPV-16 and HPV-18 and decrease the occurrence of cervical neoplasia. Hera Therapeutics plans to finish pre-clinical studies of HTI-1968 over the next year and then begin testing the topical treatment in patients infected with HPV-16 and HPV-18.
According to the Centers for Disease Control and Prevention, about 6.2 million people become infected with HPV every year, making it the most common sexually transmitted infection in the United States. One study estimates that 4.8% of cancers may be linked to HPV infection.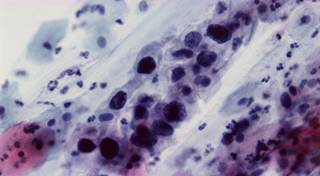 A drug that appears to prevent several subtypes of the human papillomavirus from replicating.
A small San Diego biotech has identified a drug that appears to prevent several subtypes of the human papillomavirus (HPV) from replicating—including the two HPV subtypes that cause 70 percent of all cases of cervical cancer.
"It's early, so we shouldn't hype it too much. But the antiviral studies look pretty good," said Karl Hostetler, an emeritus professor of medicine at UC San Diego, and the founding CEO of Hera Therapeutics. The two-year-old startup has been incubating in the Janssen Labs life sciences accelerator in San Diego.
Related Resources
Sign Up for Free e-newsletters
Regimen and Drug Listings
GET FULL LISTINGS OF TREATMENT Regimens and Drug INFORMATION