September 25, 2014
In Ovarian Cancer, Gelsolin Causes Cisplatin Resistance
the Cancer Therapy Advisor take:
According to a new study published in the journal Proceedings of the National Academy of Sciences (PNAS), researchers at the Ottawa Hospital Research Institute in Ottawa, Ontario, Canada, found that increased levels of a protein known as gelsolin was associated with aggressive forms of ovarian cancer that have an increased likelihood of being refractory to chemotherapy resulting in death.
Specifically, the researchers found that gelsolin protects cancer cells from cisplatin, a widely used chemotherapy agent for the treatment of various cancer types.
In addition, by injecting a specific fragment of gelsolin into cisplatin-resistant cancer cells, they found that the cancer cells became susceptible to cisplatin. The findings suggest that by identifying patients with ovarian cancer who have a high level of gelsolin, clinicians can choose treatments that are more likely to be effective at killing the cancer cells, rather than cisplatin. Further research is required to determine what level of gelsolin makes the cancer cells resistant to the particular chemotherapy agent.
According to the American Cancer Society, ovarian cancer is the fifth highest cancer-related cause of death among women in the United States. The standard of care for ovarian cancer is a combination of a taxane and a platinum-based agent, but other options may be used.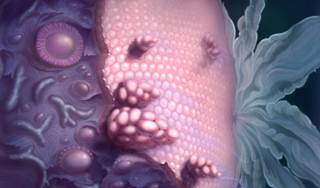 Increased levels of gelsolin associated with aggressive forms of ovarian cancer.
Ovarian cancer is the most deadly gynecological cancer, claiming the lives of more than 50% of women who are diagnosed with the disease. A study involving Ottawa and Taiwan researchers, published today in the influential Proceedings of the National Academy of Sciences (PNAS), provides new insight into why ovarian cancer is often resistant to chemotherapy, as well as a potential way to improve its diagnosis and treatment.
It is estimated that 2,700 Canadian women will be diagnosed with ovarian cancer in 2014 and that 1,750 Canadian women will die from the disease, according to Ovarian Cancer Canada. This cancer is often diagnosed late and develops a resistance to chemotherapy.
Related Resources
Sign Up for Free e-newsletters
Regimen and Drug Listings
GET FULL LISTINGS OF TREATMENT Regimens and Drug INFORMATION