November 09, 2017
Current and Future Roles of PARP Inhibitors in Ovarian Cancer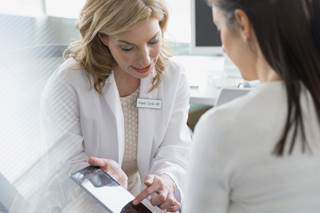 Ovarian cancer risk is known to be increased by BRCA1 and BRCA2 gene mutations, but recent developments have led researchers to believe there are several genes involved in homologous recombination-med
An oral presentation delivered by Susana M. Campos, MD, MPH, at the 35th Annual Chemotherapy Foundation Symposium in New York reviewed current literature assessing the use of poly(ADP-ribose) polymerase (PARP) inhibitors among patients with ovarian cancer.1
Ovarian cancer risk is known to be increased by BRCA1 and BRCA2 gene mutations, but recent developments have led researchers to believe there are several genes involved in homologous recombination-mediated DNA damage. Homologous recombination deficiency (HRD) is caused by germline BRCA mutations, somatic BRCA mutations, and/or epigenetic silencing. PARP enzymes work to repair these breaks by the activation of base excision repair but a lack of proficient enzyme activity results in a buildup of unrepaired DNA and eventual cell death.
Recent studies have shown that PARP inhibitors prolong progression-free survival (PFS) and exhibit antitumor activity.
Results of the NOVA study demonstrated that patients treated with niraparib compared with placebo had a median PFS of 21.0 months compared with 5.5 months, respectively. Various cohorts revealed that the PFS benefit was present across all patient groups, including germline mutation̶positive and ̶negative patients.
Patients in the SOLO-2 study were randomly assigned to receive olaparib or placebo as maintenance therapy. Eligible patients were platinum sensitive and had received 2 previous lines of therapy, and must have been BRCA1 and BRCA2 mutation-positive. The median PFS in the olaparib arm was 19.0 months compared with 5.5 months in the placebo arm (hazard ratio [HR], .30).
Study 19 also tested the role of olaparib in the maintenance setting, but unlike previous trials had a highly heterogeneous patient population: 64% with unknown BRCA status, 22% who were BRCA positive, and 14% who were BRCA negative. Eligible patients were platinum sensitive and had received at least 2 previous lines of platinum treatment. Patients treated with olaparib had a median PFS of 8.4 months compared with 4.8 months for placebo.
The phase 3 ARIEL 3 study evaluated the PFS benefit of rucaparib compared with placebo. The study design was unique in that it had a stepdown analysis of 3 different cohorts. All cohorts demonstrated a PFS benefit; patients in the BRCA mutation cohort treated with rucaparib had a PFS of 16.6 months compared with 5.4 months for placebo, the HRD arm had a PFS of 13.6 months compared with 5.4 months, and the intent-to-treat group which enrolled all other patients had a PFS of 10.8 months compared with 5.4 months.
The most frequently reported adverse events for PARP inhibitors include gastrointestinal toxicities, myelodysplastic syndrome/acute myeloid leukemia, and hematologic toxicities (grade 3 anemia, neutropenia, and thrombocytopenia). Only patients treated with rucaparib have experienced increased creatinine, ALT, and AST levels.
As the role of PARP expands in the management of ovarian cancer, more questions are emerging. Is there a role for PARP inhibitors in the frontline setting? Is there a role for PARP inhibitors after another PARP inhibitor? How can genomic testing for patients with BRCA or non-BRCA mutant ovarian cancer be used to personalize treatment? Dr Campos noted that several other studies are underway investigating these questions, and concluded by stating that we are in "a very exciting time in the management of ovarian cancer."
Read more of Cancer Therapy Advisor's coverage of the Chemotherapy Foundation Symposium (CFS) by visiting the conference page.
Reference
Campos SM. PARP inhibition in ovarian cancer: current status and emerging developments. Oral presentation at: 35th Annual Chemotherapy Foundation Symposium; New York; November 8-10, 2017.