July 16, 2014
Prediction, Prevention of Ovarian Cancer Metastasis Has New Developments
the Cancer Therapy Advisor take:
Previously, scientists thought that ovarian cancer spreads through direct surface contact with adjacent organs located in the abdominal cavity. According to a study published in the journal Cancer Cell, researchers discovered that ovarian cancer spreads through tumor cells circulating through the bloodstream. Once these tumor cells target fatty tissue, they grow and spread to other organs.
Senior author Anil Sood, MD, and colleagues at The University of Texas MD Anderson Cancer Center found that the circulating tumor cells navigate to the omentum, a fatty tissue that supports and covers abdominal organs, by relying on the receptor protein HER3. This protein is similar to its HER2 counterpart that is present in some breast cancers. Novel therapeutic options may be developed to target HER3's significant presence, which may be a biomarker for ovarian cancer metastasis.
Researchers found that when the tumors expressed a higher amount of the protein, survival decreased. In their study, 11 patients with ovarian cancer and found that their cells were 90% HER3-positive. These patients had a survival of 3.15 years, which was comparatively lower than the 4.9 years of patients with lower HER3 expression levels. In addition, researchers discovered that the bonding ligand NRG1 causes ovarian cancer's dependency on HER3.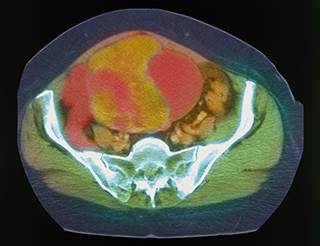 Prediction, Prevention of Ovarian Cancer Metastasis Has New Developments
Circulating tumor cells spread
ovarian cancer
through the bloodstream, homing in on a sheath of abdominal fatty tissue where it can grow and metastasize to other organs, scientists at The University of Texas MD Anderson Cancer Center report in Cancer Cell.
Related Resources
Sign Up for Free e-newsletters
Regimen and Drug Listings
GET FULL LISTINGS OF TREATMENT Regimens and Drug INFORMATION