August 08, 2014
New Test to Detect Esophageal Cancer Early
the Cancer Therapy Advisor take:
Researchers have created and validated a four-protein serum biomarker panel, called biglycan, myeloperoxidase, annexin-A6 and protein S100-A9 (B-AMP) to identify esophageal cancer with an 87% rate of accuracy.
The technique is simple, cheap, and non-invasive. The test is currently being used at the Allegheny Health Network's Esophageal and Thoracic Institute in a clinical trial designed to observe the course of esophageal cancer.
The researchers utilized tissue samples from patients with Barrett's esophagus, dysplasia of the esophagus known to be a risk factor for esophageal cancer, to identify proteins to include in a testing panel. They then tested samples from individuals with esophageal cancer and individuals with non-Barrett's esophagus gastrointestinal reflux disease (GERD).
Of the 3,777 proteins identified, five were significantly elevated in patients with esophageal cancer compared with those with non-Barrett's esophagus GERD. Of those five biomarkers, four were show to have a predictive value on mathematical modeling. Those five biomarkers were then used to make a panel that can be used to accurately and reliably detect esophageal cancer earlier.
Detecting esophageal cancer earlier greatly improves survival as the disease oftentimes remains hidden until a patient presents with dysphagia, a sign of advanced disease.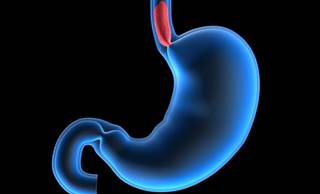 A serum biomarker can identify esophageal cancer with an 87% rate of accuracy.
A research team led by Allegheny Health Network surgical oncologist Blair Jobe, MD, has developed and validated a four-protein serum biomarker panel tha
t holds significant promise for early detection of
esophageal cancer
, a relatively rare but often deadly disease that has grown in incidence over the past several decades.
Dr. Jobe's findings were published online in Cancer, a journal of the American Cancer Society.
Related Resources
Sign Up for Free e-newsletters
Regimen and Drug Listings
GET FULL LISTINGS OF TREATMENT Regimens and Drug INFORMATION