October 10, 2014
Oral Human Papillomavirus (HPV) Infection Risk Increased by Three Daily Cigarettes
the Cancer Therapy Advisor take:
According to a new study published in the Journal of the American Medical Association, researchers at the Johns Hopkins Boomberg School of Public Health in Baltimore, Maryland, have found that cigarette smokers are more likely to be positive for human papillomavirus (HPV)-16 compared with non-smokers.
Specifically, people who smoke at least three cigarettes per day have a 31% increased risk of HPV infection due to elevated levels of cotinine, a metabolite of nicotine. For the study, researchers identified 6,887 adults aged 18 to 59 who had been tested for HPV infection between 2009 and 2012. Researchers also analyzed recent nicotine use and blood and urine samples from the participants.
They found that approximately 2% of tobacco-users were infected with HPV, while less than 1% of former tobacco users and non-smokers had an HPV-16 infection.
The researchers note that infection with oral HPV-16 does not definitely mean a person will develop cancer, and the association between HPV-16 and tobacco smoking was only correlative. Because HPV is the most common sexually-transmitted infection and studies have shown smokers tend to participate in riskier sexual practices compared with non-smokers, sexual behavior was accounted for in the study.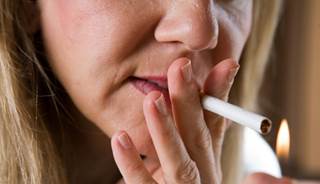 Cigarette smokers are more likely to be positive for HPV-16 compared with non-smokers.
Tobacco smokers are more likely to test positive for a type of oral human papillomavirus, HPV-16, than non-smokers, a study has found. As few as three daily cigarettes is enough to increase the HPV infection risk by one third, or 31%, because of the elevated levels of cotinine – an alkaloid found in tobacco. Human papillomavirus is the term for a group of viruses that affect the skin and mucous membranes affecting the cervix, anus, mouth and throat. Oral HPV-16 is a sexually transmitted virus that can trigger mouth and throat cancers.
In recent years, the US has experienced an increase in the number of throat cancer cases caused by HPV-16. "We saw a very strong association between higher levels of tobacco use and increased oral HPV prevalence across each of the biomarkers we evaluated," said senior author Gypsyamber D'Souza, of the Johns Hopkins Bloomberg School of Public Health.
Related Resources
Sign Up for Free e-newsletters
Regimen and Drug Listings
GET FULL LISTINGS OF TREATMENT Regimens and Drug INFORMATION