June 27, 2014
Researchers Find Way to Predict Oral Cancer Aggressiveness
the Cancer Therapy Advisor take:
Laboratory tests that predict the aggressiveness of a disease are currently in place for breast cancer and other cancers, but a laboratory test for head and neck cancer does not yet exist. According to a study reported in Clinical Cancer Research, a pattern of gene expression found in mice that is linked to tumor spreading is also found in humans.
Lead author Michael Onken, PhD, and researchers at Washington University School of Medicine in St. Louis, MO, exposed carcinogens found in alcohol and tobacco to mice in order to produce tumors. Many of the mice had aggressive metastatic tumors, which were genetically similar to humans' tumors.
Ravindra Uppaluri, MD, PhD, Elaine Mardis, PhD, and their teams collaborated by comparing their mouse gene sequences to human ones from The Cancer Genome Atlas. The genetic mutations in mice with head and neck tumors were also found in their human counterparts.
In addition, the expression of approximately 120 genes had the same signature linked to aggressive tumors in both humans and mice. Data from 324 patients confirmed the signature. Patients with oral cancer at Washington University gave tumor samples, which the researchers used to develop a proof of concept test, which found aggressive tumors with an accuracy of 93%.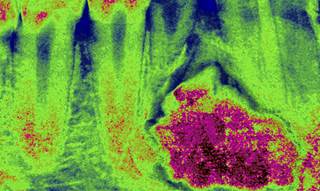 Researchers Find Way to Predict Oral Cancer Aggressiveness
Studying mouth cancer in mice, researchers have found a way to predict the aggressiveness of similar tumors in people, an early step toward a diagnostic test that could guide treatment, according to researchers at Washington University School of Medicine in St. Louis.
"All patients with advanced head and neck cancer get similar treatments," said Ravindra Uppaluri, MD, PhD, associate professor of otolaryngology. "We have patients who do well on standard combinations of surgery, radiation and chemotherapy, and patients who don't do so well. We're interested in finding out why."
Related Resources
Sign Up for Free e-newsletters
Regimen and Drug Listings
GET FULL LISTINGS OF TREATMENT Regimens and Drug INFORMATION