June 17, 2014
'Rinse and Spit' Test May Improve Oral Cancer Screening
the Cancer Therapy Advisor take:
Similar to other cancers, early detection of oral cancer can significantly improve outcomes. Unfortunately, current screening methods are expensive and involve biopsies, which are invasive and can be time-consuming. Further, as many as 85 million people are considered "at-risk" due to smoking, heavy alcohol consumption, and the presence of human papilloma virus (HPV). Therefore, many patients are unwilling to be tested until they already exhibit symptoms.
Researchers, however, have developed a new oral cancer risk assessment kit that is less expensive and easier to use. The "rinse and spit" kit includes a test strip, saline solution, and a collection cup. Patients gargle the solution, spit into the cup, and the health care provider inserts the strip into the cup. After 10 minutes, the change in the test strip's color signifies the patient's risk for oral cancer.
The color change indicates the proportional presence of CD44 compared with the total protein present in the saliva, which helps stratify the odds that squamous cell carcinoma is developing in the oral cavity. There is also some suggestion that the test can predict precancer, but the researchers note this evidence is only anecdotal at this time.
The researchers, in conjunction with Vigilant Biosciences, are currently seeking FDA approval and hope to have the test in dental offices and public health screening facilities by 2015.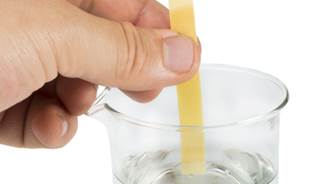 'Rinse and Spit' Test May Improve Oral Cancer Screening
After working for more than 10 years on the problem, scientists from the University of Miami are getting ready to roll out a cheap, fast and easy test for detecting
oral cancers
early — even before anything visible appears.
Related Resources
Sign Up for Free e-newsletters
Regimen and Drug Listings
GET FULL LISTINGS OF TREATMENT Regimens and Drug INFORMATION