June 19, 2014
Selumetinib Has Modest Benefits in Eye Cancer
the Cancer Therapy Advisor take:
Selumetinib improved progression-free survival (PFS) and tumor response rate but not overall survival (OS) when compared with chemotherapy in patients with advanced uveal melanoma, according to a study published in JAMA.
For their study, Richard D. Carvajal, MD, of Memorial Sloan-Kettering Cancer Center, and colleagues randomly assigned patients with metastatic unveal melanoma to twice daily oral selumetinib (n=50) or chemotherapy with temozolomide administered orally for 5 consecutive days out of every 28 days or IV dacarbazine every 21 days. Treatment lasted until disease progression, death, intolerable adverse effects, or withdrawal of consent. Nineteen patients were included after primary analysis.
Median PFS was 7 weeks for the chemotherapy group versus 15.9 weeks for the selumetinib group. Four-month PFS rate also favored selumetinib (8.5% vs. 43.1%, respectively). Median OS was 9.1 months in the chemotherapy group and 11.8 months in the selumetinib group, but this difference did not reach statistical significance.
The researchers also found that 49% of patients in the selumetinib group experienced tumor regression, but this was uncommon in the chemotherapy group.
Ninety-seven percent of patients treated with selumetinib experienced treatment-related adverse events, and 37% required at least one dose reduction.
In light of these results, the researchers concluded that selumetinib treatment led to modest improvement in PFS and response rate but not in OS. They also noted that improved clinical outcomes occurred in conjunction with a high adverse event rate.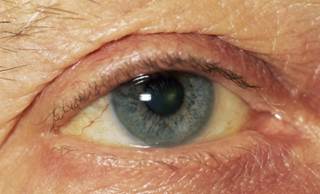 Selumetinib Has Modest Benefits in Eye Cancer
In patients with advanced
uveal melanoma
, treatment with the agent selumetinib, compared with chemotherapy, resulted in an improved cancer progression-free survival time and tumor response rate, but no improvement in overall survival, according to a study in
JAMA
. The modest improvement in clinical outcomes was accompanied by a high rate of adverse events.
Related Resources
Sign Up for Free e-newsletters
Regimen and Drug Listings
GET FULL LISTINGS OF TREATMENT Regimens and Drug INFORMATION