December 29, 2014
Does Smoking Status Predict Risk In Patients Undergoing Surgery for Head and Neck Cancer?
the Cancer Therapy Advisor take:
It is established that a patient's use of tobacco puts them at risk for developing head and neck cancer. What is unknown, however, is the effect of tobacco use on postoperative outcomes.
Researchers recruited 89 patients with head and neck cancer before they underwent surgery and asked them to self identify as either never-smokers, former smokers, or current smokers. They were also assessed through a urinary cotinine for recent exposure to tobacco on the day of their surgery.
The outcomes recorded by the researchers included length of hospital stay and complications associated with surgery. There were 32.6% of patients who identified themselves as current smokers and 52.8% who identified as former smokers. The urinary cotinine assessment indicated 43.2% of patients as positive for recent tobacco exposure on the day of surgery.
Approximately 41% of patients experienced complications associated with their surgery. The mean length of stay was 4 days in patients who received low acuity procedures and 8.8 days in patients who received high acuity procedures.
The researchers found that patients who identified as a former smoker or a current smoker were more than 6 times more likely to experience a surgery-related complication than patients who identify as never having smoked (P=0.03).
Through this study, researchers were able to conclude that the use of tobacco during treatment may establish patients who are at a higher risk of complications related to surgery for head and neck cancer.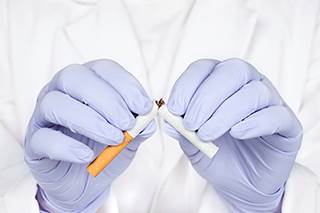 Tobacco increases risk for developing head and neck cancer, but the effect on postoperative outcomes is unknown.
Tobacco use is a risk factor for
head and neck cancer
, but its effects on postoperative outcomes are unclear, and therefore, researchers conducted this study, concluding that tobacco use status is associated with postoperative complications and may be used to distinguish at-risk patients.
Related Resources
Sign Up for Free e-newsletters
Regimen and Drug Listings
GET FULL LISTINGS OF TREATMENT Regimens and Drug INFORMATION