June 17, 2014
Testing of Oral Cancer Detection Tool Underway
the Cancer Therapy Advisor take:
Identifying naturally occurring antibiotic proteins in the mouth may allow clinicians to detect oral cancers earlier, according to researchers conducting a new pilot study.
Their goal is determining whether high levels of human beta-defensin-3 (hBD-3) in saliva and precancerous tissue can speed detection of oral cancers. This method, they said, would be faster and less invasive than current tests.
The peptide hBD-3 is a natural antibiotic found in the lining of the mouth that prevents approximately 700 species of bacteria, viruses, and fungi in the mouth from causing serious illness. Previous research indicates that hBD-3 is overexpressed in early stages of human papilloma virus (HPV) and non-HPV-related head and neck cancers.
For the pilot study, researchers will recruit 60 participants already seeking potential treatment for oral cancers. They will then measure levels of human beta-defensin-2 (hBD-2), another antimicrobial peptide, in saliva to calculate a ratio between the two peptides. An oral rinse will be used to "capture the presence of HPV" and genetic testing will be used to identify which genotypes are present in the patient's saliva.
The researchers will also determine hBD-2 to hBD-3 ratios in normal and lesional sites of the same patient and conduct biopsies of questionable lesions for diagnostic purposes.
If the results are positive, they hope to use the assay that they developed to detect oral cancers earlier and lead to better outcomes, they said.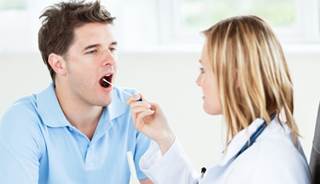 Testing of Oral Cancer Detection Tool Underway
Case Western Reserve University School of Dental Medicine and the Department of Otolaryngology at University Hospitals Case Medical Center will collaborate on a pilot study to examine whether an abundance of naturally occurring antibacterial proteins in the mouth can predict the development of
oral cancers
.
Related Resources
Sign Up for Free e-newsletters
Regimen and Drug Listings
GET FULL LISTINGS OF TREATMENT Regimens and Drug INFORMATION