September 24, 2015
ATRA Plus Arsenic Trioxide Feasible for Acute Promyelocytic Leukemia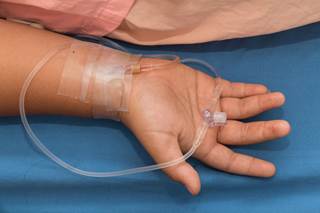 Patients with APL showed no difference in quality of life when treated with ATRA compared with ATRA plus arsenic trioxide.
All-trans­ retinoic acid (ATRA) and arsenic trioxide is a feasible treatment option for low-risk and high-risk patients with acute promyelocytic leukemia (APL), a recent study published online ahead of print in the journal The Lancet Oncology has shown.1
APL is a chemotherapy-sensitive subgroup of acute myeloid leukemia (AML). It is characterized by the presence of the PML-RARA fusion transcript.1 Patients with APL constitute only 10% to 12% of those with AML.2
For the controlled, multicenter, AML17 trial, researchers enrolled 235 patients with APL receiving treatment from 81 hospitals in the United Kingdom.
Patients were randomly assigned 1:1 to receive treatment with ATRA and arsenic trioxide or ATRA and idarubicin. ATRA was administered to both groups in a daily divided oral dose of 45 mg/m2 until remission, or until day 60, and then in 4-week cycles consisting of 2 weeks on and 2 weeks off therapy.1
Arsenic trioxide was given intravenously at 0.3 mg/kg on days 1 to 5 of each course, and at 0.25 mg/kg twice weekly in weeks 2 to 8 of course 1 and weeks 2 to 4 of courses 2 to 5.
In the idarubicin group, idarubicin was administered intravenously at 12 mg/m2 on days 2, 4, 6, and 8 of course 1, and then at 5 mg/m2 on days 1 to 4 of course 2; mitoxantrone at 10 mg/m2 on days 1 to 4 of course 3, and idarubicin at 12 mg/m2 on day 1 of the fourth course.
RELATED: Allogeneic HSCT May Be Preferred in Certain Older Patients with Acute Leukemia
High-risk patients could receive an initial dose of the immunoconjugate gemtuzumab ozogamicin at a dose of 6 mg/m2 administered intravenously. Neither group received maintenance treatment or central nervous system prophylaxis.1
Results showed quality of life did not significantly differ between the two treatment arms. In regard to safety, about 34% of patients in the ATRA plus arsenic trioxide group reported grade 3 to 4 toxicities compared with nearly 48% in the ATRA plus idarubicin group.