July 08, 2014
AML Regimen Produced Mixed Results in Older Patients
the Cancer Therapy Advisor take:
Older patients with acute myeloid leukemia (AML) generally have a poor prognosis. Depending on factors such as comorbidities, performance status, and biologic risk characteristics of the disease, older patients' median overall survival is approximately 2.8 months.
According to a study reported at the European Hematology Association meeting, older patients achieved increased overall survival when treated with azacitidine. Herve Dombret, MD, and colleagues found that although the results were not statistically significant, they were still "clinically meaningful."
Conventional therapy for patients with AML comprises best supportive care, intensive chemotherapy, and low-dose Ara-C. However, older patients generally cannot undergo intensive chemotherapy due to considerable toxic exposure.
Dombret performed a phase 3 trial that randomly assigned patients to one of four groups: azacitidine, best supportive care with intensive chemotherapy with cytarabine and an anthracycline, best supportive care and low-dose chemotherapy, and best supportive care alone. Patients' median age was 75 years.
Compared to the patients treated with conventional therapies, patients treated with azacitidine had an increased overall survival from 34.2% to 46.5%. In addition, results indicated that patients treated with azacitidine had a 3.9-month improvement for overall survival.
Adverse event rates, such as neutropenia, thrombocytopenia, and grade 3 or 4 anemia, were similar for patients treated with azacitidine, low-dose chemotherapy, and intensive chemotherapy.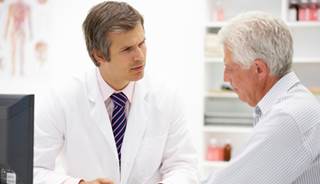 Reducing Overtreatment in Low-risk Prostate Cancer
MILAN -- Older patients with acute myeloid leukemia (AML) had "clinically meaningful improvement" in survival when treated with azacitidine instead of conventional therapy, although the benefit did not achieve statistical significance, a randomized trial showed.
Azacitidine-treated patients had a median survival of 10.4 months versus 6.5 months for patients treated with conventional regimens. The difference increased to a statistically significant 5 months with censoring of survival data at the start of subsequent AML therapy, reported Hervé Dombret, MD, of Hôpital Saint Louis in Paris, and colleagues.
Related Resources
Sign Up for Free e-newsletters
Regimen and Drug Listings
GET FULL LISTINGS OF TREATMENT Regimens and Drug INFORMATION