September 03, 2014
Blinatumomab Assigned Breakthrough Therapy Designation to Treat Acute Lymphoblastic Leukemia
the Cancer Therapy Advisor take:
Amgen has announced that the U.S. Food and Drug Administration (FDA) has designated its drug, blinatumomab, breakthrough therapy status. Blinatumomab is an investigational bispecific T-cell engager (BiTE) antibody currently being studied for the treatment of adults with Philadelphia chromosome-negative (Ph-) relapsed/refractory B-precursor acute lymphoblastic leukemia (ALL).
The FDA granted this status based on the results of Amgen's phase 2 trial presented at the American Society of Clinical Oncology (ASCO) annual meeting. In the study, 189 adults with Ph-negative relapsed/refractory B-precursor ALL were treated with blinatumomab.
Of those, 43% experienced a complete response and relapse-free survival duration was 5.9 months. Overall survival duration was 6.1 months. The most common grade 3 adverse events observed were febrile neutropenia, neutropenia, and anemia.
A phase 3 study testing blinatumomab in patients with Ph- ALL is currently underway. According to the American Cancer Society, about 6,000 adults will be diagnosed with ALL in 2014, and nearly 1,500 will die from the disease.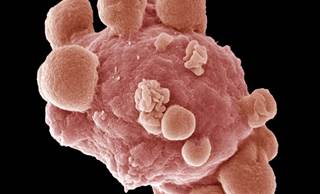 Amgen has announced that the FDA has designated its drug, blinatumomab, Breakthrough Therapy status.
"The results from the Phase 2 trial evaluating blinatumomab in adult patients with relapsed or refractory
ALL
are encouraging and provide a strong basis for a regulatory filing later this year and potential approval in this serious disease."
The FDA states that Breakthrough Therapy Designation is intended to expedite the development and review of drugs for serious or life-threatening conditions.
Related Resources
Sign Up for Free e-newsletters
Regimen and Drug Listings
GET FULL LISTINGS OF TREATMENT Regimens and Drug INFORMATION