July 22, 2014
Phase III Trial of Daratumumab to Begin
the Cancer Therapy Advisor take:
Janssen Biotech, Inc. was granted by Genmab A/S in August 2012 a license to develop and manufacture daratumab, an investigational human IgG1Kmonoclonal antibody (mAb).
Daratumumab binds to CD38 on the surface of multiple myeloma cells and causes rapid cell death for the tumor.
In the fourth quarter of 2014, Janssen Biotech, Inc. will begin a new phase III trial of daratumumab, which will treat patients with multiple myeloma. This trial will use randomized treatments of daratumumab in combination with bortezomib, melphalan and prednisone or bortezomib, and melphalan and prednisone alone. Melphalan is an alkylating chemotherapeutic agent and bortezomib is a proteasome inhibitor. The 700 patients with newly diagnosed multiple myeloma will not be candidates for stem cell transplantation (SCT), and researchers will be looking at progression-free survival (PFS).
The U.S. Food and Drug Administration has granted daratumumab a breakthrough therapy designation in May 2013, making the drug a possible treatment for patients who have already received at least three lines of therapy, such as a proteasome inhibitor or an immunomodulatory agent.
Jan van de Winkel, CEO of Genmab, said the company's collaboration with Janssen Biotech, Inc. has been rapidly moving forward, and the company is pleased with its announcement of the phase III trial of daratumumab.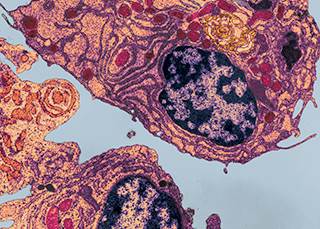 Phase III Trial of Daratumumab to Begin
Janssen to start phase III trial of daratumumab in
multiple myeloma
in Q4 2014 Genmab partner Janssen Biotech (Janssen) is planning to start a new phase III trial of daratumumab for the treatment of patients with multiple myeloma during the fourth quarter of 2014.
Related Resources
Sign Up for Free e-newsletters
Regimen and Drug Listings
GET FULL LISTINGS OF TREATMENT Regimens and Drug INFORMATION