March 10, 2015
Stem Cell Transplant in Pediatric Leukemia Not Affected by Donor Type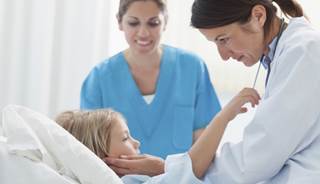 High-risk pediatric patients with ALL see no difference in outcomes after HSCT based on donor type
High-risk pediatric patients with acute lymphoblastic leukemia (ALL) see no difference in outcomes after hematopoietic stem-cell transplantation (HSCT) based on donor type, according to a recent study published in the Journal of Clinical Oncology.
Christina Peters, MD, PhD, of St. Anna Children's Hospital in Vienna and fellow researchers looked at 411 children with high-risk ALL who received standardized HSCT during first or later remissions.
They acquired human leukocyte antigen (HLA)-matched grafts that were gathered from either genoidentical siblings or unrelated donors that were compatible.
RELATED: Inotuzumab Ozogamicin + MiniHCVD: New Standard of Care for Frontline Leukemia in Older Patients?
The researchers found no difference in event-free or overall survival as well as non-relapse mortality in the unrelated donor group as compared to the genoidentical group. Absence of chronic graft-versus-host disease did not affect event-free survival.
Engraftment was found to be faster in genoidentically-grafted patients after bone marrow transplantation and was associated with fewer severe infections and pulmonary complications.
"Outcome among high-risk pediatric patients with ALL after HSCT was not affected by donor type," the authors concluded. "Standardized myeloablative conditioning produced a low incidence of treatment-related mortality and effective control of leukemia."
Reference
Peters, Christina, et al. "Stem-Cell Transplantation in Children With Acute Lymphoblastic Leukemia: A Prospective International Multicenter Trial Comparing Sibling Donors With Matched Unrelated Donors—The ALL-SCT-BFM-2003 Trial." Journal of Clinical Oncology. doi: 10.1200/JCO.2014.58.9747. [epub ahead of print]. March 9, 2015.