October 17, 2017
Nivolumab Plus Chemotherapy Improves Overall Survival and Response Rate in NSCLC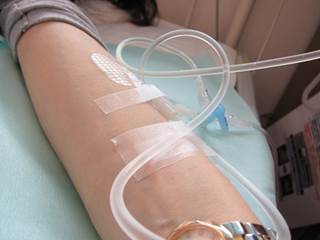 Researchers randomly assigned 56 treatment-naive patients with advanced NSCLC to 3 cohorts: nivolumab plus gemcitabine and cisplatin, nivolumab plus pemetrexed and cisplatin, and nivolumab plus paclit
A 3-year update for a trial evaluating nivolumab plus chemotherapy showed an improved overall survival (OS) and overall response rate (ORR) among patients with advanced non–small cell lung cancer (NSCLC), according to a study presented at the International Association for the Study of Lung Cancer (IASLC) 18th Annual World Conference on Lung Cancer (WCLC) in Japan.1
In the phase 1 CheckMate 012 study (ClinicalTrials.gov Identifier: NCT01454102), researchers randomly assigned 56 treatment-naive patients with advanced NSCLC to 3 cohorts: nivolumab plus gemcitabine and cisplatin, nivolumab plus pemetrexed and cisplatin, and nivolumab plus paclitaxel and carboplatin. Patients received 4 cycles of nivolumab plus chemotherapy and were then maintained on nivolumab monotherapy.
At time of analysis, the minimum follow-up period was 45.5 months. Patients had a median duration of response of 10.4 months (95% CI, 5.1-26.3) and a median progression-free survival of 6.0 months (95% CI, 4.8-8.3).
The median OS was 19.2 months (95% CI, 14.1-23.8) and the 3-year OS rate was 25%.
ORR was 46%. Patients had similar ORRs and OS rates regardless of PD-L1 expression. The ORRs were 48% and 52% in patients with <1% and >1% PD-L1 expression, respectively, and the median OS was 19.2 months (95% CI, 12.2-23.8) compared with 20.2 months (95% CI, 10.9-27.2), respectively.
Both PD-L1 subgroups had 3-year OS rates of 22%
The authors concluded that "[t]hese results support further evaluation of nivolumab-chemotherapy combinations as first-line treatment for advanced NSCLC, which are being explored in CheckMate 227 ([ClinicalTrials.gov Identifier]: NCT02477826)."
Read more of Cancer Therapy Advisor's coverage of the IASLC 18th World Conference on Lung Cancer (WCLC) by visiting the conference page.
Reference
Juergens RJ, Hellmann MD, Brahmer JR, et al. First-line nivolumab plus platinum-based doublet chemotherapy for advanced NSCLC: CheckMate 012 3-year update. Presented at: International Association for the Study of Lung Cancer 18th World Conference on Lung Cancer; October 2017; Yokohama, Japan. Abstract OA 17.03.