September 26, 2018
Pathologic Tumor Analysis Leads Progress in the Understanding and Treatment of NSCLC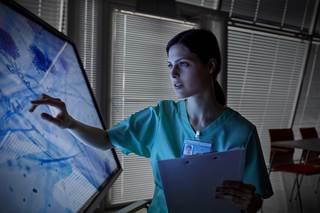 Pathologic analysis of tumor tissue has led to the improved understanding of the molecular drivers of NSCLC.
Pathologic analysis of tumor tissue is the foundation for many of the most recent advances in the understanding of the molecular drivers of squamous and nonsquamous non-small cell lung cancer (NSCLC)—and this analysis has led to many of the corresponding treatment advances, according to presenters at the IASLC's 19th World Conference on Lung Cancer in Toronto, Canada.1
"Lung cancer pathology has 'come of age' in the last 10 years," Keith Kerr, BSc, MB, ChB, FRCPath, FRCPE, of Aberdeen University School of Medicine at Aberdeen Royal Infirmary, United Kingdom, wrote in an abstract from the meeting. "It is only in recent years that it has taken such a pivotal role in predictive biomarker assessment to facilitate personalized, precision medicine for patients with NSCLC."
Although the historical standard therapies of surgery, chemotherapy, and radiation therapy remain relevant in the treatment landscape of NSCLC, more recent advances have led to better screening, improved diagnosis, and development of targeted therapies and immunotherapies for this disease.
The discovery in 2008 that pemetrexed plus platinum chemotherapy was effective for adenocarcinoma histology, but not squamous cell carcinoma, was the first demonstration of the importance of accurate subtyping. Analysis of lineage markers by immunohistochemistry can help predict subtype in cases where morphology is insufficient.
Since then, tyrosine kinase inhibitors (TKIs) have been developed for nonsquamous NSCLC based on the identification that genetic aberrations are oncogenic drivers in some tumors. EGFR inhibitors were the first type of TKI developed for NSCLC, as a result of the realization that EGFR-activating mutations drive some adenocarcinomas. The next TKIs developed for NSCLC were ALK inhibitors to target the protein products of ALK gene rearrangements.
More recently, evaluation for ROS1 gene rearrangements and the BRAF V600 alteration have been recommended by clinical practice guidelines to guide the use of ROS1 and BRAF inhibitors, respectively, in nonsquamous NSCLC. In the future, the presence of clinically actionable MET, RET, NTRK, and HER2 alterations may also guide NSCLC therapy.
Advances in squamous NSCLC have been more challenging, owing to the disease's complex genome and multiple mutations that are present as a result of tobacco carcinogenesis.
Another more recent addition to pathologic tumor analysis is PD-L1 expression, and likely in the near future, tumor mutational burden will be increasingly measured, and may be used as predictive biomarkers for the efficacy of immune checkpoint inhibitors.
Read more of Cancer Therapy Advisor's coverage of the IASLC 2018 meeting by visiting the conference page.
Reference
Kerr K. It's all in the tissue. Presented at: International Association for the Study of Lung Cancer 19th World Conference on Lung Cancer; Toronto, Canada; September 23-26, 2018. Abstract PL03.05.