July 11, 2014
AZD3965 May Be New Treatment Option for Small Cell Lung Cancer
the Cancer Therapy Advisor take:
Small cell lung cancer is the most aggressive type of lung cancer. According to a study published in Clinical Cancer Research, researchers tested the effectiveness of the drug AZD3965 against small cell lung cancer cells. This collaboration between Cancer Research UK Manchester United and AstraZeneca discovered that when the cancer cells did not have the alternate lactate transporter MCT4, then AZD3965 had an effect on the cancer cells, increased cell lactate levels, and decreased tumor growth.
Studying patients' lung tumor samples, the researchers found that high MCT1 levels were associated with poor patient prognoses. Lead researcher Caroline Dive said that AZD3965 may prove useful to patients who have elevated MCT1 levels and require more effective therapies.
Susan Galbraith, head of AstraZeneca's Oncology Innovative Medicines Unit, said that the novel therapy of targeting tumor cell metabolism could increase patient survival by providing more treatment options. The therapy studied uses a drug that exploits a tumor's change in energy production. Cancer cells switch to glycolysis, which is a process that needs less oxygen and produces the by-product lactate.
The new drug AZD3965 targets the molecule MCT1, which is a monocarboxylate transformer. This molecule plays a role in moving lactate out of cells, and drugs that target monocarboxylate transformers have shown to stop the formation of tumors.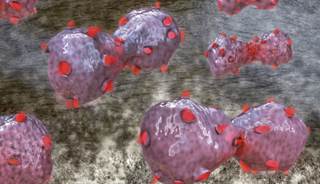 AZD3965 May Be New Treatment Option for Small Cell Lung Cancer
Manchester scientists have shown that a new drug could prove useful in treating small cell lung cancer - the most aggressive form of lung cancer.
Scientists from the Cancer Research UK Manchester Institute, based at The University of Manchester and part of the Manchester Cancer Research Centre, teamed up with experts at AstraZeneca, as part of a collaboration agreed in 2010, to test a drug - known as AZD3965 - on small cell lung cancer cells.
The research, published in the journal Clinical Cancer Research, also helps identify which patients are most likely to respond to the treatment.
Related Resources
Sign Up for Free e-newsletters
Regimen and Drug Listings
GET FULL LISTINGS OF TREATMENT Regimens and Drug INFORMATION