June 20, 2014
Drug May Reverse Resistance to Targeted Therapy in Lung Cancer
the Cancer Therapy Advisor take:
Resistance to targeted therapy is not uncommon in patients with lung cancer, but a new study published in the Journal of Clinical Investigation may be a game changer in this field.
According to the study, researchers have identified the mechanisms through which resistance occurs and have discovered a drug that may combat it.
In their study, researchers employed animal models and evaluation in cell lines. They found that erlotinib resistance in lung cancer cells may be due to over-expression of a growth protein called Cripto-1. Blocking signaling transduction of this protein, however, brought back sensitivity to the drug.
To accomplish blocking of Cripto-1 signaling transduction, the researchers used a Src inhibitor that is unfortunately no longer available, but the FDA has approved a similar Src inhibitor for chronic myelogenous leukemia.
The researchers are already looking at ways to further investigate Cripto-1 as a potential target in treating lung cancer. For instance, they are initiating a clinical trial to determine whether their observations in this study hold true in patients with non-small cell lung cancer as well as in animals and in the lab. In particular, they plan to include patients with EGFR mutations, as they are most sensitive to erlotinib, the researchers said.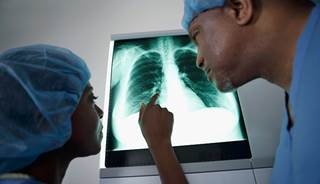 Drug May Reverse Resistance to Targeted Therapy in Lung Cancer
Scientists at Georgetown Lombardi Comprehensive Cancer Center and the National Cancer Institute have discovered why intrinsic resistance occurs to
lung cancer
targeted therapy—and they have pinpointed a type of drug they say could potentially reverse it.
Related Resources
Sign Up for Free e-newsletters
Regimen and Drug Listings
GET FULL LISTINGS OF TREATMENT Regimens and Drug INFORMATION