September 24, 2014
FDG-PET Technology May Misdiagnose Lung Infections for Cancer
the Cancer Therapy Advisor take:
According to a new study published in The Journal of the American Medical Association, fludeoxyglucose (FDG)-positron emission tomography (PET) technology is not as accurate in diagnosing lung cancer as it is in diagnosing benign disease in areas of the lung where infections, such as histoplasmosis and tuberculosis, are common. Researchers at Vanderbilt University and Tennessee Valley Healthcare System-Veteran Affairs in Nashville, Tennessee, performed a meta-analysis that included 70 studies over a 14-year period.


The researchers found that FDG-PET technology was associated with more false-positive results, which means decreased specificity for diagnosing lung cancer in areas of the globe where infectious lung diseases are observed more often than in the general population. Fungal infections like blastomycosis, coccidioidomycosis, and histoplasmosis, which are the most prevalent lung infections in the United States, can cause granulomas that may be mistaken for malignant lesions by FDG-PET technology.
The researchers suggest that in areas where these fungal infections are more common, patients found to have inflamed nodules may be referred for biopsies or lung surgeries that are unnecessary. Furthermore, the researchers recommend limiting FDG-PET use to regions where lung infections are not common unless an institution has verified expertise in interpreting FDG-PET.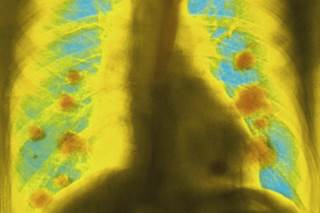 Researchers found that FDG-PET technology was associated with more false positive results.
A new analysis of published studies found that FDG-PET technology is less accurate in diagnosing lung cancer versus benign disease in regions where infections like histoplasmosis or tuberculosis are common. Misdiagnosis of lung lesions suspicious for cancer could lead to unnecessary tests and surgeries for patients, with additional potential complications and mortality.
Histoplasmosis and other fungal diseases are linked to fungi that are often concentrated in bird droppings and are found in soils.
The study by investigators at Vanderbilt University and the Tennessee Valley Healthcare System-Veterans Affairs was led by Vanderbilt first author Stephen Deppen, Ph.D., and principal investigator Eric Grogan, M.D., MPH, and appeared in the Sept. 24 issue of JAMA.
Related Resources
Sign Up for Free e-newsletters
Regimen and Drug Listings
GET FULL LISTINGS OF TREATMENT Regimens and Drug INFORMATION