August 13, 2015
Better Preoperative Coordination of Care Needed for Patients With Lung Cancer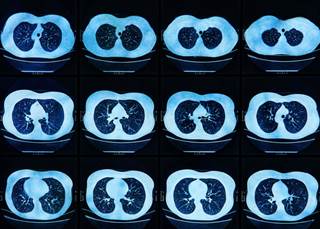 Study finds lung cancer patients miss critical diagnostic tests and often wait too long for treatment.
Patients who undergo surgery for lung cancer often wait too long to receive treatment, and many do not receive critical diagnostic tests that are necessary to determine the best possible treatment, according to a study published in the August 2015 issue of The Annals of Thoracic Surgery.1
The 5-year relative survival rate of patients diagnosed with lung cancer remains below 20%, and has not changed significantly over the past 30 years.2 Most patients who survive more than 5 years have had surgery as part of their treatment, yet fewer than half of patients who undergo surgery for lung cancer survive 5 years.3
A group of researchers from Baptist Centers for Cancer Care, in Southaven, MS, and Memphis, TN, and the University of Memphis in Tennessee, led by Raymond Osarogiagbon, MBBS and Nicolas Faris, MDiv, retrospectively reviewed the clinical records of all recipients of lung resection surgery at two hospitals over 42 months.
They classified all lung cancer-related procedures into five points of care: lesion detection, diagnostic biopsy, radiologic staging, invasive staging, and treatment, and analyzed the duration between points and what steps were taken to determine the best possible treatment.
Of 614 eligible patients, 92% had lung cancer, 5% had a non-lung primary tumor, and 3% had a benign lesion. Only 6% received preoperative therapy.
Twenty-seven percent had no preoperative diagnostic procedure; 22% did not receive PET/CT imaging scans; and 88% did not receive an invasive staging test. Only 10% received the recommended combination of CT, PET/CT, and invasive staging.
RELATED: Adding Radiotherapy to Neoadjuvant Chemo Not Beneficial for Stage 3A/N2 Lung Cancer
The researchers also found that it took anywhere from 43 and 189 days from when lesions were initially detected to when patients underwent surgery.
The median wait from initial detection to diagnostic biopsy was 28 days, and from diagnostic biopsy to surgery, 40 days. In an interview with Cancer Therapy Advisor, Dr. Osarogiagbon said "delay in diagnosis and treatment is extremely unpleasant to patients and their home caregivers."