May 27, 2015
Adding Bevacizumab Effective in Chinese Patients with Nonsquamous Lung Cancer
the Cancer Therapy Advisor take:
The addition of bevacizumab to carboplatin/paclitaxel was well tolerated and resulted in a clinically meaningful treatment benefit in Chinese patients with advanced nonsquamous non-small cell lung cancer (NSCLC), a new study published online early in the Journal of Clinical Oncology has shown.
For the phase III trial, researchers enrolled 276 Chinese patients with locally advanced, metastatic, or recurrent advanced nonsquamous NSCLC and randomly assigned them 1:1 to receive carboplatin AUC 6 intravenously and paclitaxel 175mg/m2 intravenously on day 1 every 21 days for ≤ six cycles, with placebo or bevacizumab 15mg/kg intravenous on day 1 of each cycle. Patients received treatment until disease progression, unacceptable toxicity, or death.
Results showed that median progression-free survival was 9.2 months with bevacizumab and 6.5 months with placebo (HR = 0.40; 95% CI: 0.29-0.54; P < 0.001). In addition, objective response rate was 54% and 26% with bevacizumab and placebo, respectively.
In regard to safety, adverse events were similar to those observed in previous studies of bevacizumab plus carboplatin/paclitaxel in patients with NSCLC.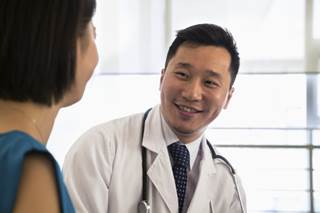 Addition of bevacizumab to carboplatin/paclitaxel well tolerated in Chinese patients with nonsquamous NSCLC.
The phase III BEYOND trial was undertaken to confirm in a
Chinese patient population
the efficacy seen with first-line bevacizumab plus platinum doublet chemotherapy in globally conducted studies.
Related Resources
Sign Up for Free e-newsletters
Regimen and Drug Listings
GET FULL LISTINGS OF TREATMENT Regimens and Drug INFORMATION