September 08, 2016
Checkpoint Inhibitors and Combination Therapy: the Future of Treatment for Non-small Cell Lung Cancer?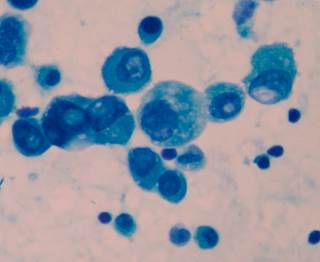 While immune checkpoint inhibitors show real promise for treating lung cancer, better predictive biomarkers are necessary to make the therapy more effective.
Immune checkpoint inhibitors offer new avenues of treatment for non-small cell lung cancer (NSCLC), a disease once believed to have poor immunogenic potential. Therapies targeting the cytotoxic T-lymphocyte-associated antigen-4 (CTLA-4) and programmed cell death protein-1 (PD-1) pathways show promise in clinical trials.
Justin Gainor, MD, of the Massachusetts General Hospital in Boston, and colleagues recently reported on the status of checkpoint inhibitor research for treating NSCLC. In their report, published in The Oncologist, they discussed the rationale for immunotherapy, ongoing clinical trials, and possible directions the field will take.1
"I think this reflects a new paradigm in therapy," said Dr Gainor in an interview with Cancer Therapy Advisor. "We now know that among patients with advanced lung cancer previously treated with chemotherapy, these PD-1/PD-L1 inhibitors have been shown, in a number of randomized studies, to improve overall survival, which has long been considered the gold standard."
"The challenge is that only a minority of patients respond. So we need to do better at identifying predictive biomarkers for who is most likely to respond to these drugs, not only to save people from potential toxicity, but also because these drugs are very expensive."
In the report, the authors note that in the recent CheckMate-057 trial, although PD-L1 expression did predict for improved overall survival with nivolumab, a checkpoint inhibitor, the biomarker's immunohistochemistry is "imperfect."
"The other challenge with PD-L1 expression is that it's an inducible biomarker, so it can change over time, and it can be heterogeneous," said Dr Gainor. "The most challenging part of it is that it's not binary. In lung cancer we've gotten used to binary biomarkers, where you either have it or you don't. By contrast, PD-L1 expression positivity is more of a continuous variable, and we don't know what the right cutoff point is."
The authors discuss ongoing trials including KEYNOTE-001 and 010, which are evaluating the efficacy of the anti-PD-1 inhibitor, pembrolizumab, and a study of the tolerability of durvalumab, an anti-PD-L1 inhibitor. KEYNOTE-024 is evaluating the efficacy of pembrolizumab as a first-line therapy for patients with NSCLC.2
The authors note the potential for combination therapies, including PD-L1 inhibitors combined with other checkpoint inhibitors, costimulatory checkpoints, immunomodulatory molecules, chemotherapy, vaccines, and radiation. The report highlights the combination of PD-1/PD-L1 inhibitors with CTLA-4, which, in early clinical trials, has shown promise. The results of ongoing studies, including CheckMate-026 and KEYNOTE-024, are "eagerly awaited."
"I think PD1 inhibitors will be the standard of care even in first-line lung cancer in select subsets of patients, such as high PD-L1 expressers," said Dr Gainor. "And I suspect that's in the near term, once we see the data from KEYNOTE-024. The larger question is what the role will be for combinations."
References
Herzberg B, Campo MJ, Gainor JF. Immune checkpoint inhibitors in non-small cell lung cancer. Oncologist. 2016 Aug 17. doi: 10.1634/theoncologist.2016-0189 [E-pub ahead of print]
Brahmer JR, Kim ES, Zhang J, Smith MM, et al. KEYNOTE-024: Phase III trial of pembrolizumab (MK-3475) vs platinum-based chemotherapy as first-line therapy for patients with metastatic non-small cell lung cancer (NSCLC) that expresses programmed cell death ligand 1 (PD-L1). 2015. J Clin Oncol 33 (suppl; abstr TPS8103)