September 05, 2017
Tumor Re-Biopsy May Be Best Option to Identify Cause of EGFR-TKI Resistance in NSCLC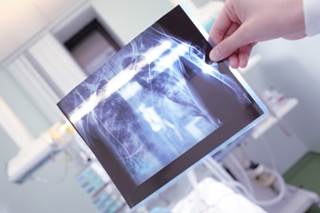 Not conducting a second tissue biopsy could have dangerous implications for the patient according to a recent article.
Epidermal growth factor receptor (EGFR) tyrosine kinase inhibitors (TKIs) are the best treatment option for patients with non-small cell lung cancer (NSCLC) that harbors EGFR mutations, resulting in significantly improved response and progression-free survival compared with chemotherapy. However, most patients with EGFR-mutant disease treated with EGFR-TKIs will develop a resistance to the drugs within 9 to 14 months.1
Tissue re-biopsy and reevaluation is currently recommended for patients with NSCLC with actionable mutations or histology transformation after the development of resistance to EGFR-TKIs. A recent survey by the National Comprehensive Cancer Network indicated that less than one-third of clinicians conduct a repeat biopsy at disease progression.2
Not conducting a second tissue biopsy could have dangerous implications for the patient, reported Jun Chen, MD, PhD, of the department of lung cancer surgery at Tianjin Medical University General Hospital in China. Dr Chen and colleagues recently published a case report in Thoracic Cancer detailing a 60-year-old patient with left upper lung adenocarcinoma.3
The patient underwent initial treatment with gemcitabine and cisplatin, and was given erlotinib after computed tomography later revealed liver metastasis. Treatment reduced the primary lung tumor and eliminated the liver metastasis, but the original lung tumor started to enlarge and bred an adjacent secondary nodule. Despite developing resistance to erlotinib, the patient refused any other treatment.
Eventually left upper lobectomy plus systemic mediastinal lymphadenectomy was performed. Blood circulating tumor DNA testing done prior to surgery showed only EGFR 19 deletion and no T790M mutation ― a well-known mechanism for EGFR-TKI resistance. Re-biopsy after surgery using in-depth genetic and histological analyses showed that the original adenocarcinoma had secondary EGFR exon 20 T790M mutations and the newly developed nodule was a sarcomatoid carcinoma undergoing epithelial–mesenchymal transition (EMT), which shared the same genetic phenotype as the primary adenocarcinoma.