June 20, 2014
New Device Can 'Smell' Lung Cancer
the Cancer Therapy Advisor take:
New data from an ongoing clinical trial suggest that a simple "breathalyzer" test may be able to detect lung cancer, how advanced the disease is, or other chronic lung conditions.
The specific compounds produced by cancer cells that are present in the blood stream also induce alterations in blood chemistry and in a patient's breath.
The device, dubbed NaNose, being tested in the trial is comprised of gold nanoparticles and is designed as a sensitive odor detector that can "smell" the cancerous compounds in a patient's breath. The person blows into a balloon and the device is supposed to sniff out the compounds that are indicative of cancer.
Researchers included 80 patients with lung cancer and 31 with chronic obstructive pulmonary disease (COPD) in their evaluation. The device was able to differentiate patients with lung cancer from those with COPD approximately 85% of the time.
Results also revealed the device's ability to correctly identify early-stage disease from advanced lung cancer approximately 79% of the time.
The take-home message from the results thus far is that this device could identify lung cancer early and before the disease spreads, which would improve clinical outcomes for patients. Moreover, the test is simple, cheap, and less invasive than other detection methods, according to the researchers.
More data will be available once the trial completes, they said.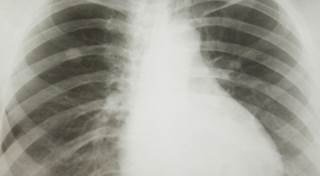 New Device Can 'Smell' Lung Cancer
A test of patients' breath could reveal whether they have
lung cancer
and how advanced it is, or whether they suffer from chronic, noncancerous lung conditions, a new study shows.
Related Resources
Sign Up for Free e-newsletters
Regimen and Drug Listings
GET FULL LISTINGS OF TREATMENT Regimens and Drug INFORMATION