October 24, 2018
Management of Hyperprogressive Disease in Nivolumab-Treated Lung Cancer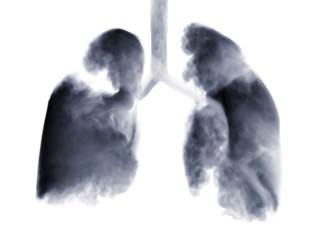 Management strategies were identified for lung cancer patients who experienced hyperprogressive disease during treatment with nivolumab.
A retrospective case series analysis, published in Thoracic Cancer, described management strategies for non-small cell lung cancer (NSCLC) patients who experienced hyperprogressive disease during the first cycle of nivolumab.1
Some patients who receive treatment with immunotherapies experience deteriorating clinical status and rapid tumor progression, a phenomenon known as hyperprogressive disease. Recently, a study showed a higher frequency of hyperprogressive disease in patients with NSCLC treated with programmed cell death 1 (PD-1) or programmed cell death ligand 1 (PD-L1) inhibitors.2
To identify management strategies for hyperprogressive disease, researchers reviewed medical records for patients with NSCLC treated with checkpoint inhibitor nivolumab between January 2016 and January 2018 at Toneyama National Hospital, Toyonaka, Japan. Eighty-seven patients were identified, 5 (approximately 6%) of whom had rapid tumor progression during the first cycle of nivolumab treatment.
Clinical review of the 5 patients who had rapid tumor progression revealed that in 4 of these patients, corticosteroids effectively managed the symptoms of hyperprogression. In 3 patients, so-called pseudoprogression, a temporary inflammatory response, occurred. However, following this temporal progression, nivolumab eventually showed efficacy and patient symptoms improved. In 1 patient, pleural and pericardial effusions that required drainage occurred; but after that, no subsequent recurrence was observed.
The study authors concluded that effective management of the symptoms of rapid tumor progression can be achieved with several types of treatment, such as high-dose corticosteroid therapy, antibiotic therapy, and drainage.
"Hyperprogressive disease is thought to be associated with poor quality of life and survival. However, a response with tumor shrinkage was achieved in some cases, and we were able to overcome severe symptoms," the study authors wrote. "Specifically, the clinical courses of our case series indicate that corticosteroid therapy could suppress the temporary inflammatory reaction, leading to pseudoprogression. Further studies are required to identify useful biomarkers of delayed therapeutic outcomes in order to distinguish between true HPD and temporary disease progression."1
References
Kanazu M, Edahiro R, Krebe H, et al. Hyperprogressive disease in patients with non-small cell lung cancer treated with nivolumab: a case series [published online October 17, 2018]. Thorac Cancer. doi: 10.1111/1759-7714.12894
Ferrara R, Mezquita L, Texier M, et al. Hyperprogressive disease in patients with advanced non-small cell lung cancer treated with PD-1/PD-L1 inhibitors or with single-agent chemotherapy [published online September 6, 2018]. JAMA Oncol. doi: 10.1001/jamaoncol.2018.3676