July 18, 2014
Novel TAZ-targeted Therapy to Fight Against Non-Small Cell Lung Cancer
the Cancer Therapy Advisor take:
According to a study published in Clinical Cancer Research, researchers found that patients with non-small-cell lung cancer (NSCLC) with high transcriptional coactivator with PDZ-binding motif (TAZ) levels may be markers of poor prognosis. As the WW-domain containing transcription regulator-1, TAZ is suggested to be an oncogene in NSCLC, and TAZ is important to lung homeostasis and morphogenesis as well. Akira Saito and colleagues at the University of Tokyo in Japan analyzed TAZ expression in 196 patients' lung tumor samples. Results indicated a correlation between TAZ expression, squamous cell carcinoma histology, and younger age. Researchers also found that tumor samples with epidermal growth factor receptor (EGFR) mutations had lower TAZ expression levels compared to mutation-negative samples. Overall, an increase in TAZ expression was linked to a decrease in survival. When researchers studied alveolar and bronchial epithelial cells from noncancerous lung tissue samples, they found positive nuclear staining for TAZ. This differs from lung cancer tissue samples, which had widely varied results. Saito said since there is differential expression of TAZ in NSCLC, this might mean high levels of TAZ expression could define a clinical subset of patients with NSCLC. In addition, researchers found that TAZ transduction increased tumorigenesis and cell proliferation in bronchial epithelial cells, but in NSCLC cells TAZ silenced suppressed cell proliferation and caused cell cycle arrest.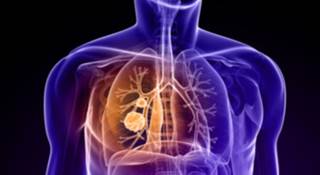 Novel TAZ-targeted Therapy to Fight Against Non-Small Cell Lung Cancer
Patients with non-small-cell
lung cancer
(NSCLC) who express high levels of transcriptional coactivator with PDZ-binding motif (TAZ) may be a clinically distinct subgroup with an unfavourable prognosis, researchers report. To investigate further, Saito and team initially measured TAZ expression in tumour samples from 196 patients in the well-characterised Uppsala lung cancer cohort.
Related Resources
Sign Up for Free e-newsletters
Regimen and Drug Listings
GET FULL LISTINGS OF TREATMENT Regimens and Drug INFORMATION