August 26, 2014
Small Cell Lung Cancer Oncogene Discovered
the Cancer Therapy Advisor take:
According to new findings published in the Journal of Thoracic Oncology, a somatic mutation at amino acid 918 in the rearranged during transfection (RET M918T) protein has been found in small cell lung cancer (SCLC).
Researchers also found that by increasing expression of this mutation increased intracellular signaling and tumor growth within SCLC cell lines.
Researchers at Case Western Reserve University in Cleveland, Ohio, studied six SCLC tumors to analyze 238 somatic mutations on 19 oncogenes. Researchers then enforced expression of RET wild type and mutant protein in SCLC cell lines.
They found the RET M918T mutation in one of the metastatic SCLC tumors and that by overexpressing this mutation, ERK signaling, MYC expression, and cell proliferation were all increased. Then, by testing ponatinib and vandetanib, two tyrosine kinase inhibitors (TKIs) that inhibit RET, on the tumors, cell growth decreased.
The results of this study may lead to testing for the RET M918T mutation in patients with metastatic SCLC, where TKIs like ponatinib and vandetanib may be effective. The authors caution, however, that larger studies must be conducted before the role of the RET M918T oncogene can be definitively proven.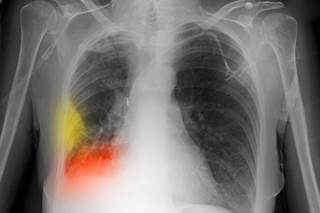 An oncogenic somatic mutation has been identified in small cell lung cancer tumors.
For the first time an oncogenic somatic mutation at amino acid 918 in the RET (rearranged during transfection) protein has been identified in
small cell lung cancer (SCLC)
tumors and enforced expression of this mutation within SCLC cell lines produced increased intracellular signaling and cell growth.
SCLC is a highly malignant form of lung cancer representing 15% of all lung cancers and is strongly associated with tobacco smoking. NSCLC, representing 85% of lung cancer, has been extensively examined for genomic alterations and targeted therapies are approved for patients with certain mutations, however SCLC has not been examined with the same rigor and there are no approved targeted therapies for SCLC.
Related Resources
Sign Up for Free e-newsletters
Regimen and Drug Listings
GET FULL LISTINGS OF TREATMENT Regimens and Drug INFORMATION