July 24, 2014
Tumor Promoter Expression May Aid in Lung Cancer Diagnosis
the Cancer Therapy Advisor take:
The leading cause of cancer-related death in the United States is lung cancer. Cancer stem cells (CSCs) have self-renewal and tumorigenic properties, and advances in technology suggest their existence in various human tumors. CSCs may play a major role in tumor development and progression due to their role in stimulating carcinogenesis. Various chemical and environmental factors, such as heavy metals, cigarette smoke, and air pollution, affect carcinogenesis induction. According to a study published in Oncotarget, researchers studied how exposure to carbon nanotubes (CNTs), which constitute one of the most frequently produced nanomaterials, affects CSC regulation. Yon Rojanasakul and researchers exposed human lung epithelial cells to single-walled (SW) CNTs for 6 months in a workplace-relevant setting. Results indicated that this chronic SW-CNT exposure caused an emergence of lung CSCs, and these CSCs overexpressed the tumor promoter caveolin-1 (Cav-1). It has been found in a previous study that Cav-1 positivity was associated with poor prognosis and survival in patients with lung cancer. Consequently, the CSCs in the current study were resistant to apoptosis, or cell death, and displayed increased cell invasion and migration. Through this study, researchers found Cav-1's role in CSC regulation and SW-CNT transformed cell regulation, which could prove useful for the diagnosis and prognosis of lung cancer.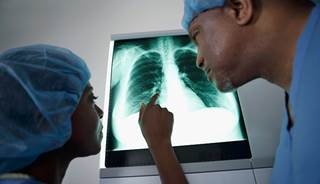 Tumor Promoter Expression May Aid in Lung Cancer Diagnosis
Cancer stem cells (CSCs) may represent targets for carcinogenic initiation by chemical and environmental agents. These CSCs, which were found to overexpress tumor promoter caveolin-1 (Cav-1), displayed aggressive cancer phenotypes of apoptosis resistance and enhanced cell invasion and migration compared with their non-CSC counterpart.
Related Resources
Sign Up for Free e-newsletters
Regimen and Drug Listings
GET FULL LISTINGS OF TREATMENT Regimens and Drug INFORMATION