April 28, 2017
In Focus: Bendamustine for Non-Hodgkin Lymphomas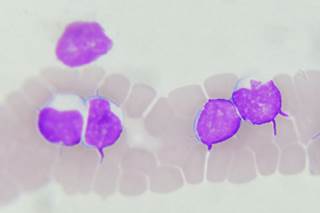 Data support use of bendamustine for patients treated with several lines of therapy, but whether this drug should be used in the first line is open to question.
Following its US Food and Drug Administration (FDA) approval in 2008 based on a single-arm phase 2 study (SDX-105-01; ClinicalTrials.gov Identifier: NCT00069758), bendamustine has emerged as the standard chemotherapy portion of the chemoimmunotherapy regimen used to treat non-Hodgkin lymphoma (NHL).1
Yet SDX-105-01 and 2 other studies — SDX-105-02 and SDX-105-03 (ClinicalTrials.gov Identifier: NCT00076349 and NCT00139841, respectively) — provide limited follow up for the long-term safety of bendamustine.1-3
In a retrospective analysis using patient-level data from the 3 studies, an analysis published in the British Journal of Haematology reported that after a median follow up of about 9 years, "no clear new safety signals attributable to bendamustine were identified," and bendamustine did not appear to adversely affect stem cell collection (required for potential transplantation) or subsequent therapy.4
"With a follow up of nearly 10 years, this analysis confirms that bendamustine is an efficacious anti-lymphoma drug with a safety profile similar to what was observed in earlier studies," corresponding author Peter Martin, MD, lymphoma service chief at Weill Cornell Medicine and New York-Presbyterian Hospital in New York, told Cancer Therapy Advisor.
Three Studies Provided Patient-level Data
For this analysis, data from 149 of the 245 patients from SDX-105-01, SDX-105-02, and SDX-105-03 were made available. In 2 of the studies (SDX-105-01 and SDX-105-03), bendamustine was provided as a single agent, while in SDX-105-02 bendamustine was provided in combination with rituximab.
Patients included in the analysis had relapsed or refractory follicular, small lymphocytic, marginal zone, mantle cell, transformed, or lymphoplasmacytic lymphoma and had received a median of 3 prior therapies, with a range of 1 to 8.
RELATED: Hodgkin Lymphoma: Risk-adapted Therapy Recommended
Patients treated with single-agent bendamustine (106) or the combination regimen (43) received a median of 6 cycles. Patients receiving bendamustine in combination received a dose of 90 mg/m2, while those receiving the single agent received a dose of 120 mg/m2 — all on days 1 and 2 of each treatment cycle.